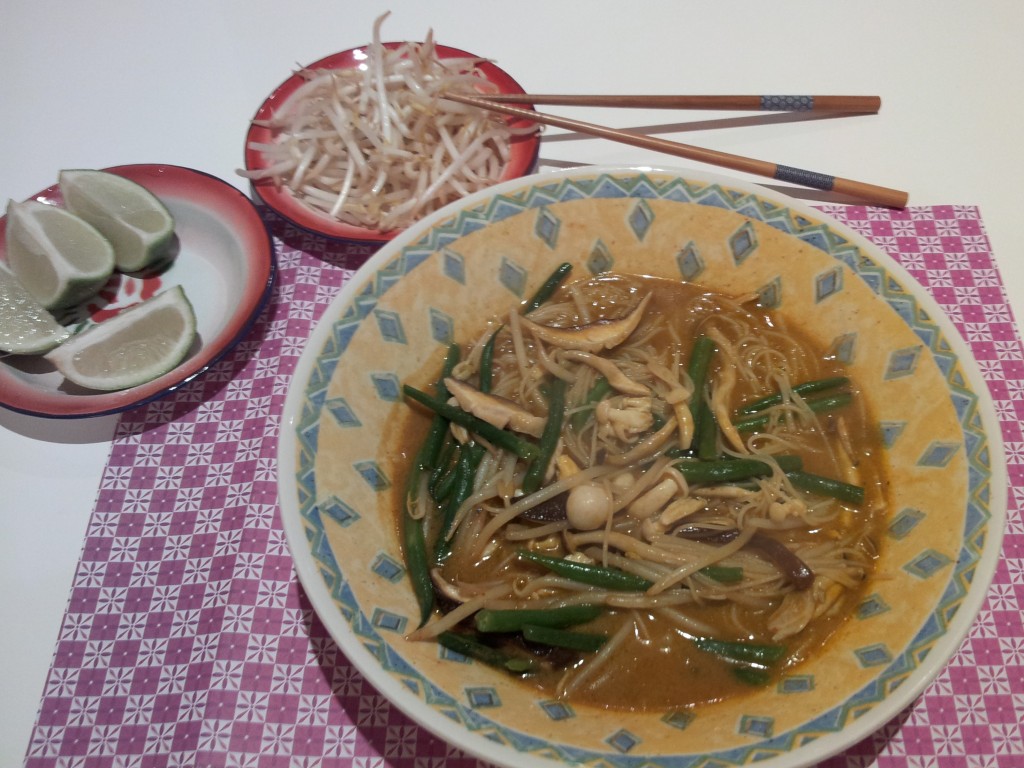 What's your favourite cuisine? I've been partial to Thai food for a while, but have discovered Malaysian relatively recently. One of my favourite quick go-to dishes is a Malaysian breakfast dish, but this is a bit more adventrous. I can't wait to try more dishes from the region. Recommendations are really welcomed.
This mushroom laksa is a Malaysian curry soup, based on a Yottam Ottolenghi recipe. We substituted a few things from the original, agave for sugar, mushrooms for tofu puffs, and made it our own.
There were these incredible Asian mushrooms in the supermarket, looking like they'd beamed in from another planet, so we made them the star of the show. Any kind of mushroom would work well though, oyster, shiitake; even chunky slices of portabello or cute little buttons.
This is substantial enough for a good meal, and impressive enough for guests. Guests who you don't mind slurping noodles with, anyway.
What Malaysian dishes should I try next?
Ingredients
1/2 white onion
3 cloves of garlic
1 inch piece of ginger
1 inch piece of lemongrass (white part only)
1 tsp ground coriander
1/2 tsp red chilli flakes (or more or less, depending on teste)
1 tsp savoury chilli paste (I managed to find Malaysian sambal oelek but any chilli paste would do, or just have a bit more chilli flakes)
2 tbsp vegetable oil
small handful of fresh coriander
500ml vegetable stock
1 tsp curry powder
1/2 tsp salt
1 tsp agave nectar (or sugar)
400ml coconut milk
50g ready cooked rice noodles, the very very thin vermicelli ones (If you can only find dried ones, then cook them just after you've done your green beans, in the same water)
150g bean sprouts
75g green beans, trimmed and cut in half
200g assorted mushrooms, in bite-sized pieces
2 limes, halved
Serves 2 
1. Put the first seven ingredients in a small food processor bowl and blitz with one tablespoon of the oil and the stems of the coriander until almost smooth.
2. Heat the rest of the oil in in a saucepan and fry your curry paste for 20 minutes over a medium heat. Add a dot more oil if it's catching too much, and keep an close eye, stirring it. Add the stock, curry powder, salt, agave and coconut milk and simmer for a further 20 minutes. Taste and season as needed.
3. Add your mushrooms and cook for ten minutes. They'll take on a lot of the flavours of the broth and get an almost unctuous texture.
3. Five minutes before the broth is done, put another pan of water on to boil. In here, quickly blanch your beansprouts and scoop them out with a slotted spoon. Bring the water back to the boil and cook your green beans for 3 minutes. Add the noodles to the soup – they'll heat through in one minute.
4. Put your green beans, bean sprouts and coriander leaves in soup bowls and ladle over your soup. Squeeze over limes, and serve with some fresh beansprouts for crunch if you like.