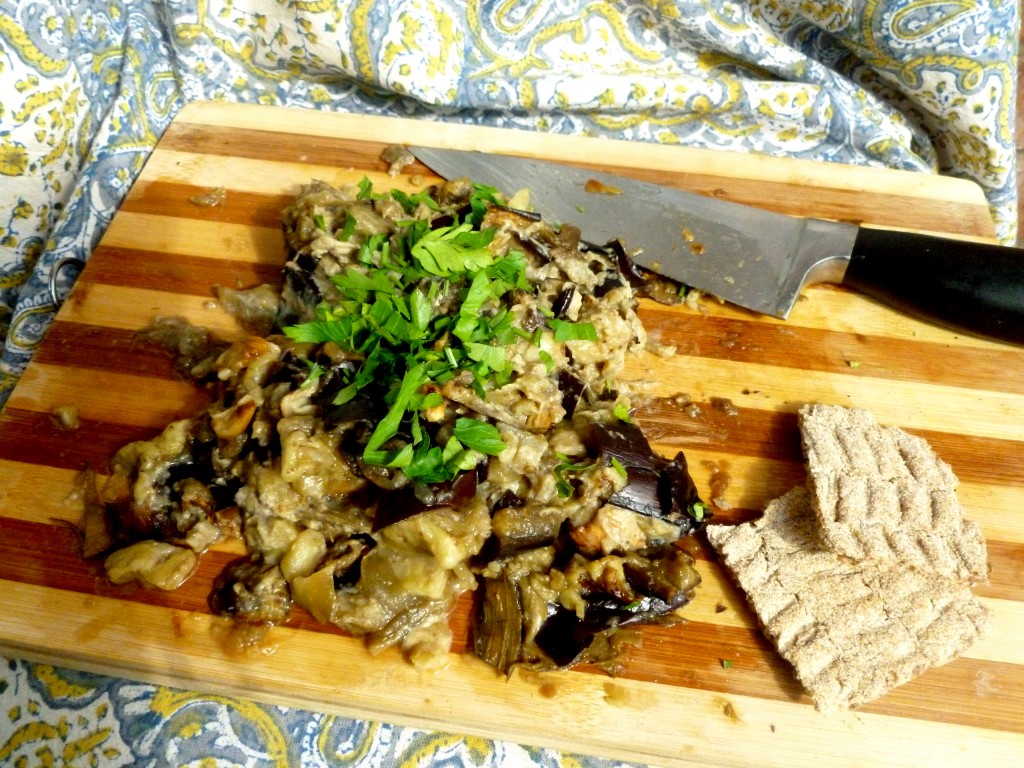 Early Victorians grew aubergines purely as ornamental plants, suspicious of their resemblance to nightshade. As with a few other things things – workhouses, child labour, ignoring women – they got things quite wrong.  Aren't aubergines great? Aren't we glad to live in such enlightened times? A source of B vitamins and fibre, they're adaptable to pretty much any cuisine. We've said before that aubergine dishes ain't pretty, but taste beyond brilliant.
This Baba Ganoush, with some slight tweaks, is based on a Rose Elliot recipe from her "New Complete Vegetarian", which is one of my favourite go-to cookbooks ever. It's a perfect picnic food, or mezze dish for picking. As above, I served mine with plain old Ryvita, but it's also lovely with sliced of fennel or carrot; or pitta breads drizzled with olive oil an paprika and baked in the oven for 10 minutes.

Serves 4
Ingredients
2 aubergines
3 tbsp olive oil
2 garlic cloves
2 heaped tbsp tahini
2 tbsp lemon juice
Salt & black pepper
To finish
1 tbsp extra virgin olive oil
1 tbsp flat-leaf parsley
Method
1. Preheat oven to 200 degrees C / 400F / gas mark 6
2. Remove the stems from the aubergines and cut them in half. Rub them lightly with olive oil and place purple-side down on a baking tray. Leave the two cloves of garlic in their skins and rub with a little olive oil to stop them catching, and tuck on the baking tray too. Bake for 20-25 minutes, until they can be pierced with a sharp knife.
3. Allow to cool, and chop the aubergine as finely as you can, then mix with the other ingredients, squuezing the roasted garlic out of its skin into the mixture. You can blend the whole mixture here, but I really liked the texture with the small pieces of skin and the meltingly tender flesh.
4. To serve, either leave on the board that you cut on, as I did, or transfer to something more elegant. Drizzle a little olive oil over the top and sprinkle with chopped parsley. Eat with crudites, ryvita or pita bread.