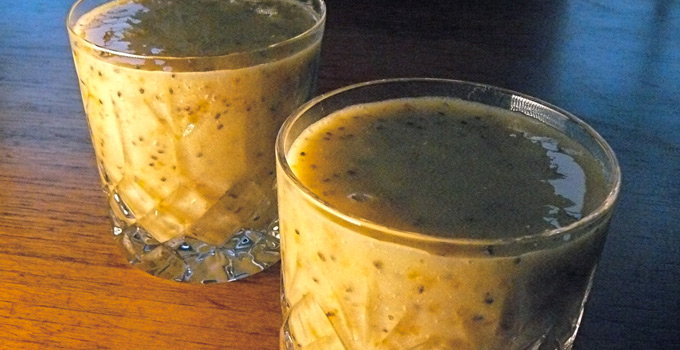 Bibi's grandma, Shirley*, is going through a bit of a phase at the moment. She's trying to get rid of clutter and keeps pointing at mad things that I emphatically don't want and saying 'That's yours'. Usually I pretend I haven't heard. When she pointed to these vintage cut glass crystal glasses though, I said 'Ooh, lovely. Wrap 'em up and let me take them right now!'
They are fine, fine tumblers and there's only one thing that should be sipped from them. No, not scotch whisky that's been aged for 30 years but vegan smoothies that will last no more than 5 minutes if you get the blend right. This Vegan Apricot and Chia Seed Smoothie is one such…
It's a tasty post-run recovery drink, fantastic for breakfast and is a good source of non-heme iron, potassium and fibre, among other things. Smoothies with chia seeds really help your muscles back on the road to recovery after a tough workout. Alternate this with our Chia Seed Chocolate Mint Protein Shake to stay at your zingy best when you're training hard.
*Shirley is also my mum, of course, but since Bibi came along she seems to much prefer being called Grandma. Funny, that…
The Recipe
Vegan Apricot and Chia Seed Smoothie
Ingredients
500ml soya or other plant milk

100ml water

2 teaspoons chia seeds
8 dried apricots (unsulphured)
1 teaspoon vanilla extract
1 banana (optional)
Instructions
Soak the chia seeds and dried apricots in the water for about 15 minutes.
Add them to all the other ingredients and pulse in a food processor (like my ace Froothie) or with a stick blender.
Drink!