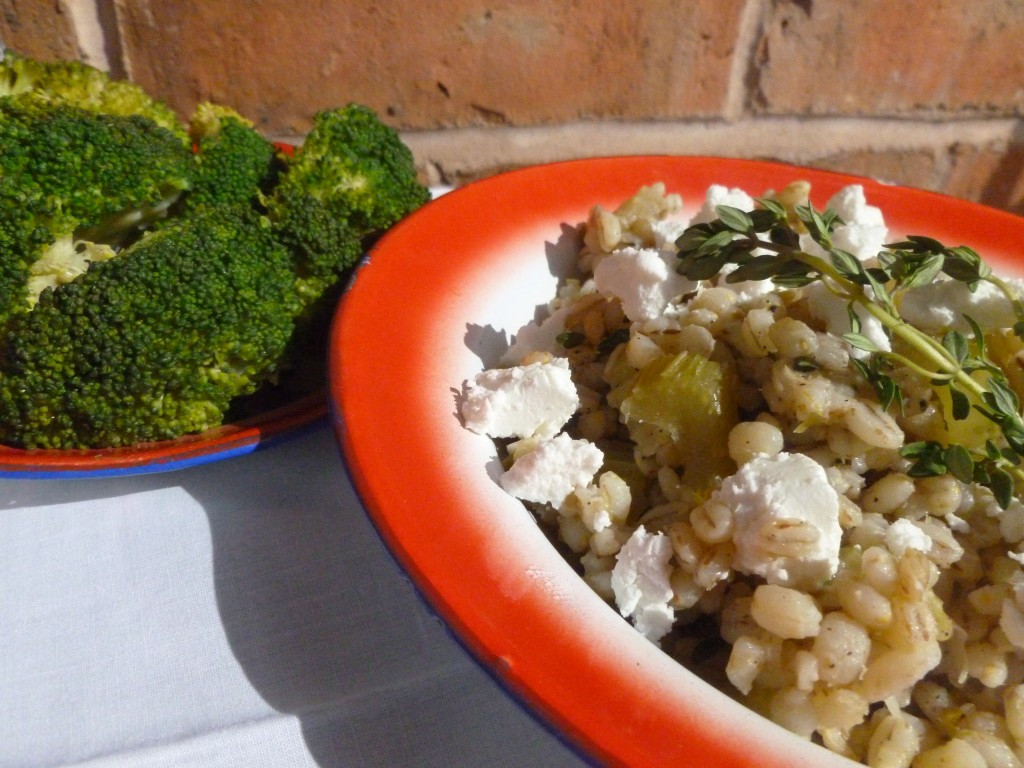 We're doing the Edinburgh Half Marathon soon so we've been experimenting to come up with delicious carbo-loading dishes. This Leek and Celery Barlotto with Lemon Thyme is a winner. As we've said before, we love a risotto but get frustrated by the faff of all that stirring, checking, slowly adding stock etc. We like to keep things simple and a barlotto is just the ticket; like a good risotto, it can be big on taste and texture but, unlike risotto world, barlotto land is a fuss-free place. Our Root Vegetable Barlotto was a huge hit in winter. This new one has a lighter, more summery taste.
Celery has anti-inflammatory properties and is rich in vitamins and minerals and the lemon thyme contains important minerals and antioxidants and has anti-fungal properties (cure for athlete's foot, maybe!)
Pearl barley isn't considered a whole grain, as the polishing (or 'pearling') removes the hull. This isn't a problem for tapering runners though; in the run-up to a big race, you need to reduce the fibre content in your diet to help prevent the dreaded runner's trots. That said, serving this with steamed vegetables should help ensure that you're don't short change yourself in the fibre department.
This is great cold too, so you could add a light vinaigrette and serve it as a salad for a picnic or summer buffet.

Leek and Celery Barlotto with Goats' Cheese and Lemon Thyme
Ingredients
6 sticks celery, sliced
1 large leek, sliced
250g pearl barley
500-750ml vegetable stock
1 tablespoon vegetable oil
10-12 sprigs lemon thyme
20g soft goat's cheese per person for serving
Instructions
Saute the celery and leek in the vegetable oil for 5 minutes until just starting to soften.
Add the rinsed pearl barley and stir well, coating it with oil.
Add
ml
of the vegetable stock and stir thoroughly (don't add it all at once - you may not need it). Bring to the boil and reduce heat to a simmer.
With a tight fitting lid on the pan, simmer 30-40 minutes, checking every 10 minutes and adding more stock if necessary. Stir in the lemon thyme after
minutes.
It's ready when the barley is chewy but not tough.
Serve dotted with the goat's cheese with steamed vegetables or salad.