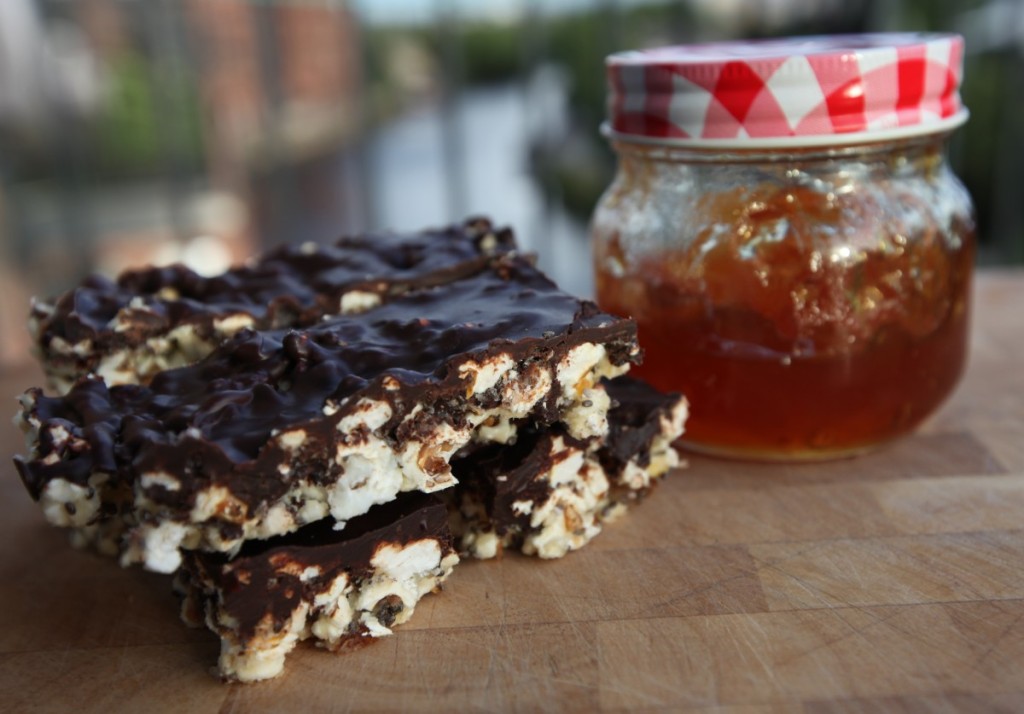 Yes, you heard that right! These are some of the yummiest hits of vegan foody madness that you're ever likely to lay hands on. Popcorn is having a big moment these days, as I'm sure you've noticed. It's positively trendy and there are dozens of gourmet (really?) flavours in the shops right now. No one has thought to turn them into bitter-sweet treat protein bars though. Not until now, that is…
Popcorn is a complex carb and high in dietary fibre, which can contribute to a decreased risk of stroke, diabetes, heart disease, high blood pressure, high cholesterol and obesity. It's also good for helping prevent haemorrhoids and constipation. Not bad for a dirt cheap snack that takes no time at all to prepare.
These Chocolate Orange Popcorn Energy Bars are absolutely delicious and – bonus! – quick and easy to make. They're reminiscent of a certain popular chocolate orange snack much loved by triathletes for their quick energy release. These bars are much better for you though: they're vegan with chia seeds for a protein boost and no artificial additives. What shall we call them – Chiaffa Cakes…?
These will keep for 3-4 days in the fridge (if you manage to keep them that long!)

Chocolate Orange Popcorn Protein Bars
Chocolate Orange Popcorn Protein Bars - high energy, low fat
Recipe type:
Protein Bars
Ingredients
40g cooked popcorn
50g creamed coconut
2 tablespoons chia seeds
2 tablespoons marmalade
150g dark chocolate
Instructions
Very lightly grease and line a 9 inch x 9 inch (22cm x 22cm) baking tray.
Melt the creamed coconut over a low heat on the stovetop or in a bowl in the microwave. Check it often - it burns very quickly and you don't want that.
Place the melted creamed coconut in large bowl with the popcorn, chia seeds and marmalade.
Mix together well (it's easiest to use your hands but you'll manage with a wooden spoon if you don't fancy getting sticky).
Press firmly into the baking tray, then pop it in the fridge.
Melt the chocolate in a bowl in the microwave or over a pan of simmering water. Pour the chocolate over the popcorn mix, spreading it all the way to the edges.
Put the tray back in the fridge and leave to set for at least an hour.
Cut with a hot knife to avoid cracking the chocolate.