On Friday 9th October 2015, we hosted Light Night Art Runs 2015. On Saturday 10th October, we spent most of the day saying 'Wow' and grinning. A lot.
Light Night Art Runs 2015 involved:
– 150 runners
– Hundreds of neon whistles
– Ditto maracas
– Thousands of glowsticks
– A mass warm up
– A team of ace run leaders
– Dressing a venue to fairy grotto standard
Oh, and months of planning. It was totally worth it though. The fantastic feedback and the smiling faces bounding back to the venue at the end of the run were unforgettable. We Veggie Runners often say that running is fun. Sometimes people don't really believe us. There was no doubt about it on Light Night though. It really was magnificent.
We got loads of comments that oozed off the scale positivity. Then someone someone sniffed 'But is it art?' We could answer that in three ways.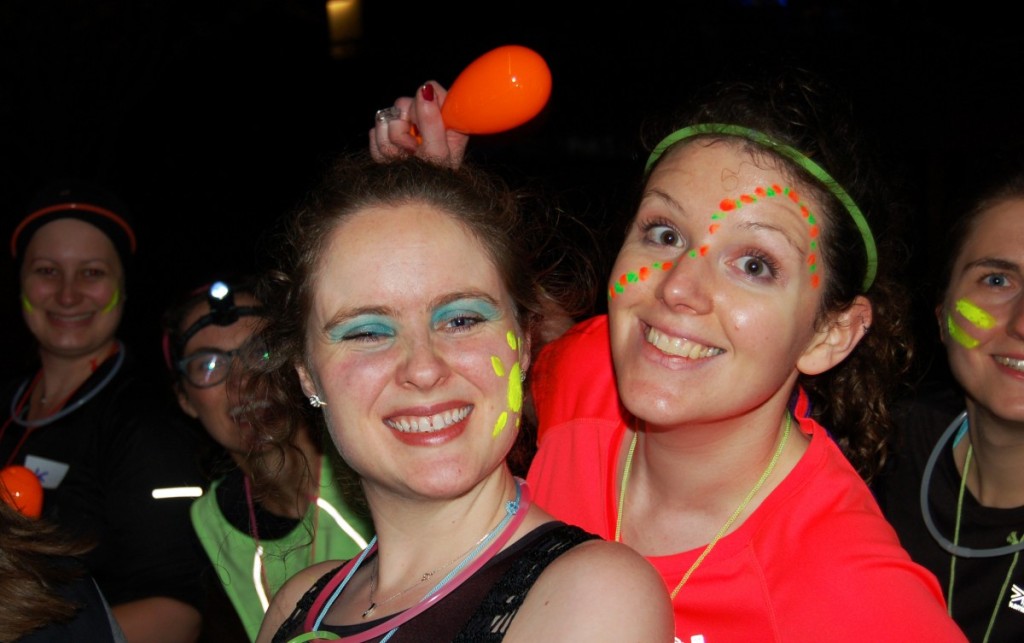 1) Of course it's art. As the runners weave through the Light Night installations, a flash of neon-bright noise and energy, they generate a dynamic that impacts upon every aspect of Light Night, as they simultaneously see the art and become it.
2) It might not be art but it's bonkers good fun.
3) It makes people happy so who cares if it's art or not?
It was a wonderful event, the runners were amazing, our team was truly and the support from the crowds incredible.
Massive thanks to every single person involved with Light Night Art Runs 2015. See you next year!
Special thanks to:
Space2 for project management support
Up and Running for reflective armbands to keep all our runners safe
Leeds College of Music for the stunning venue and event support
Our AMAZING run leaders – what a team of superstars!
Each and every runner – you guys rock (and whistle REAL loud!)
Leeds Go Try Sports, pop-up sports events for young people
Jelena Zindovic for some stunning photos
Interested in Art Runs for your city, council or company? We lead fab, fun running events all over the UK (and even further afield if you'd like us to!)
Email info@veggierunners.com
NEXT EVENT
2-mile Art Run for all ages and abilities
Saturday 24th October 2015
MIMA, Middlesbrough
Places strictly limited
BOOK HERE