Why a post about 5 Things You Need To Know About Yoga Teacher Training on a running blog, you may ask? Well, we Veggie Runners love running and we love yoga. So much, indeed, that we founded Roga™, a unique run-yoga approach to fitness, with Yoga Hero.
I've been running for a long time and know a lot about it – how to do it, how to teach it, how to eat for it… Basically, how to live and breathe it, pretty much. I've been doing yoga for years too but I've always kept that as more of a hobby. Something switched recently though – my head, maybe, or perhaps my bank account – and training to be a yoga instructor suddenly rose to the top of my to do list.  This doesn't mean I'm foregoing run coaching in favour of yoga, I'm just adding the two together. Doubling the skills, broadening my knowledge base, that type of thing. Or confusing myself big-style might be another way to put it. All growth is confusing though, isn't it?
I signed up for training with the fantastic Bahia Yoga, opting for the intensive 20-day, 200 hour course. This was perfect for me – the course was in Valencia (another chance to practice my Spanglish!) – and I could immerse myself fully, which usually works well for me.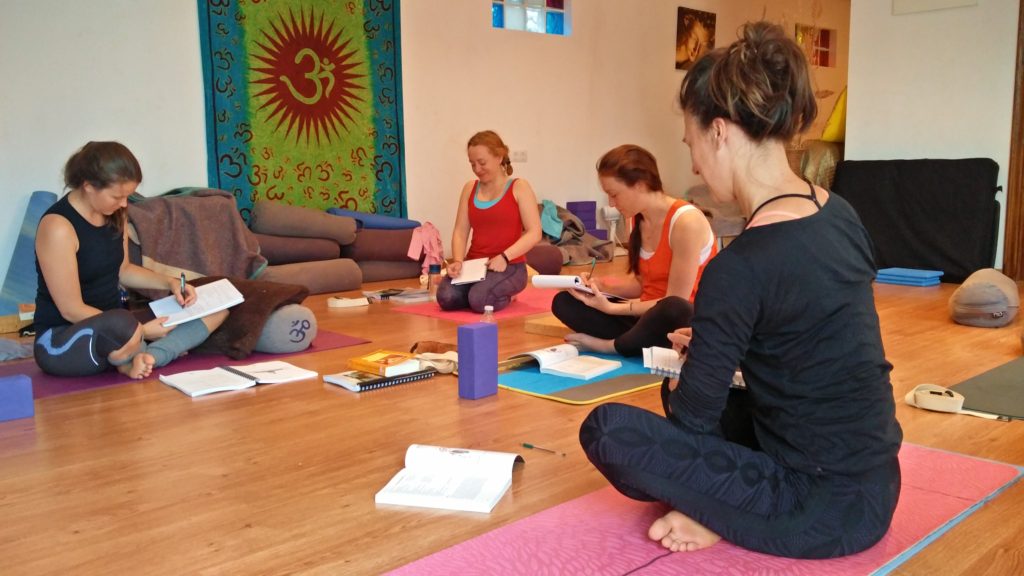 Yoga Teacher Training Can Be Demanding
The first thing I discovered was that, hey, standing at the front of a studio and spouting instructions (put your left leg here, your right leg there etc.) is harder than it looks. I developed a new respect for every yoga teacher I've ever met, even the ones I thought were slight rubbish at the time! You really need to know your stuff to guide people safely through a yoga session. I had people holding their breath for so long – it's easy to forget to remind people to breathe! – some of them were lucky to get off the mat alive.
Yoga Doesn't Only Happen On The Mat
I'm going to be honest – I thought yoga was something you did on a yoga mat. Logical assumption, right? Wrong! It's a philosophy, with a long and complex history, full of myths, legends and learning, with inextricable links to a host of other disciplines (who knew?) Please excuse my ignorance but I genuinely thought it was all about thinking nice thoughts whilst trying to make your head touch the floor in a forward bend. I'm glad it's not – more to learn and enjoy and all that – but I was definitely not the smartest guy in the room on the first day.
Yogis Get Up Very Early
You'll know from our post on how to sleep well that I'm not a natural early riser. I can do it at a push but I really struggle. Imagine my surprise when I discovered that every day during training we would be rising at 5.45am! It would have been too embarrassing to have a teenage-type hissy fit and stay in bed so I just went with the flow – and, much to my amazement, not only got used to it but started to enjoy it.
Yoga Is Multi-Layered And Complex
As well as practicing the asanas (that is the stuff you do on the mat), we had lessons in anatomy and physiology, meditation, teaching techniques and philosophy, history and ethics. All of this as applied learning, packed in to 10-hour days. Hence the 5.45am start, I guess.
Yoga Teaches You A Lot About Yourself
Yoga instructor Jason Crandell puts it well when he says you're 'studying yourself when you're studying yoga'. I definitely learned more about myself in the first 10 days of training (eek, still another 100 classroom hours to come in April) than I have in long time. I'm not sure if it was the yoga practice and the learning that went with it, or the fact of committing to new learning, or living with 9 new people and having no phone or internet for the duration* or the combination of all of these things. I do know that life feels pretty om-tastic at the moment, in a way that it didn't before I went away. What I mean is that nothing has changed except me (let's hope that's a good thing).
I came home with my head bursting with new knowledge (actually thousands of years old but I kinda missed it previously). I also have lots of new thoughts about my life and what I do with it and in it. Hopefully after April I'll be qualified to teach this and you can come to one of my yoga classes and see if it's all been worth it.
*It's amazing that I didn't mention the full-on digital detox sooner in this post. This was my biggest fear but I guess this just goes to show that being internet-free for 10 days wasn't so difficult after all.
What are your top tips for yoga teachers,
either as someone who goes to classes or as a yoga instructor yourself?