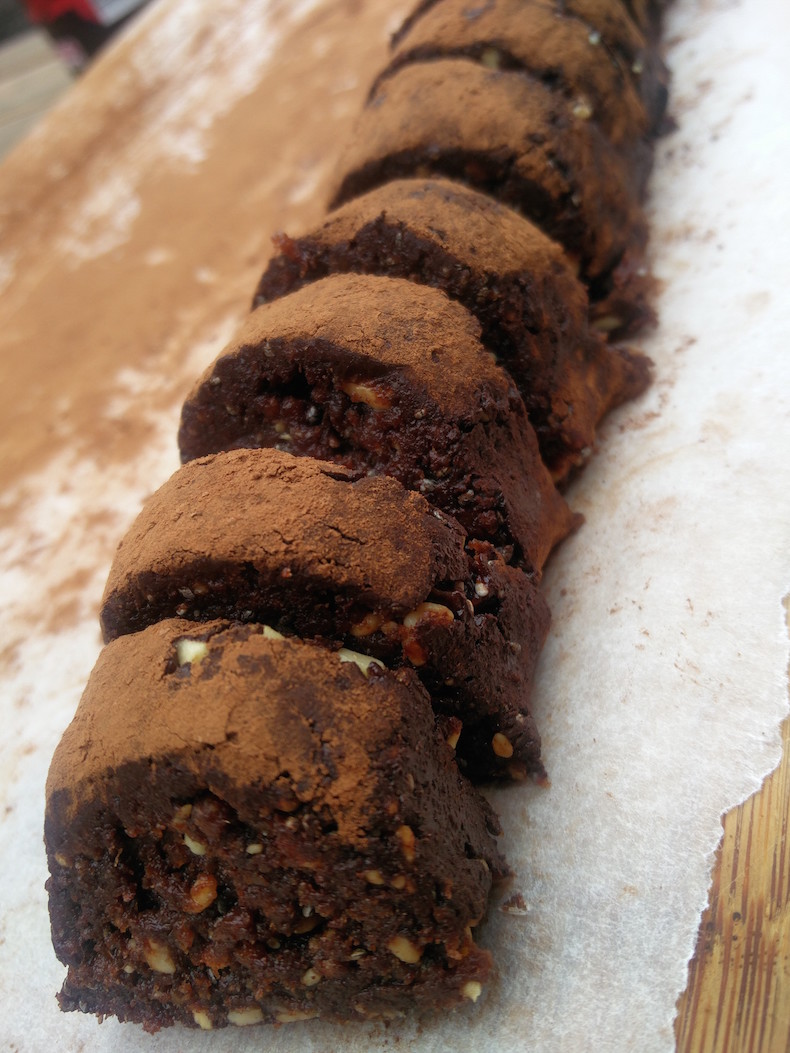 These Salted Peanut Butter Energy Balls taste like they've been sent from heaven after a long run. The sodium and other minerals we lose during exercise need to be replaced and what better way than with the sea salt energy balls as delicious as these?
Bibi rather surprised me singing about chocolate salty balls when she was just a girl. Isaac Hayes and South Park led to a lot of parents around the world explaining the concepts of innuendo and what it's not OK to sing in front of your grandma. Nice to bring it full circle and share a recipe for healthy, innuendo-free salted energy balls on our grown-up lady blog!
Cacao and cocoa powder are both pretty good for you (hurray!) so you can use either – totally up to you.
These are super-simple to make, btw. You can use a stick blender but I'd recommend getting your hands in there and mushing up the mix with your fingers. Messier but much more fun.

Salted Peanut Butter Energy Balls
Easy to make energy balls with protein and salt to help with recovery after exercise. They're also delicious and good to eat any time, whether you've worked out or not.
Ingredients
200g pitted dates or date paste
150g crunchy peanut butter
1 tablespoon chia seeds
1 tablespoon cacao or cacao powder
¼ - ½ teaspoon sea salt
Instructions
Place all of the ingredients in a large bowl and blend together (either with a stick blender or with your hands).
Roll in to small balls or into a long log.
Dust with cocoa or cacao powder. Refrigerate for a least an hour.
If you've made a long log, cut into 1cm slices.