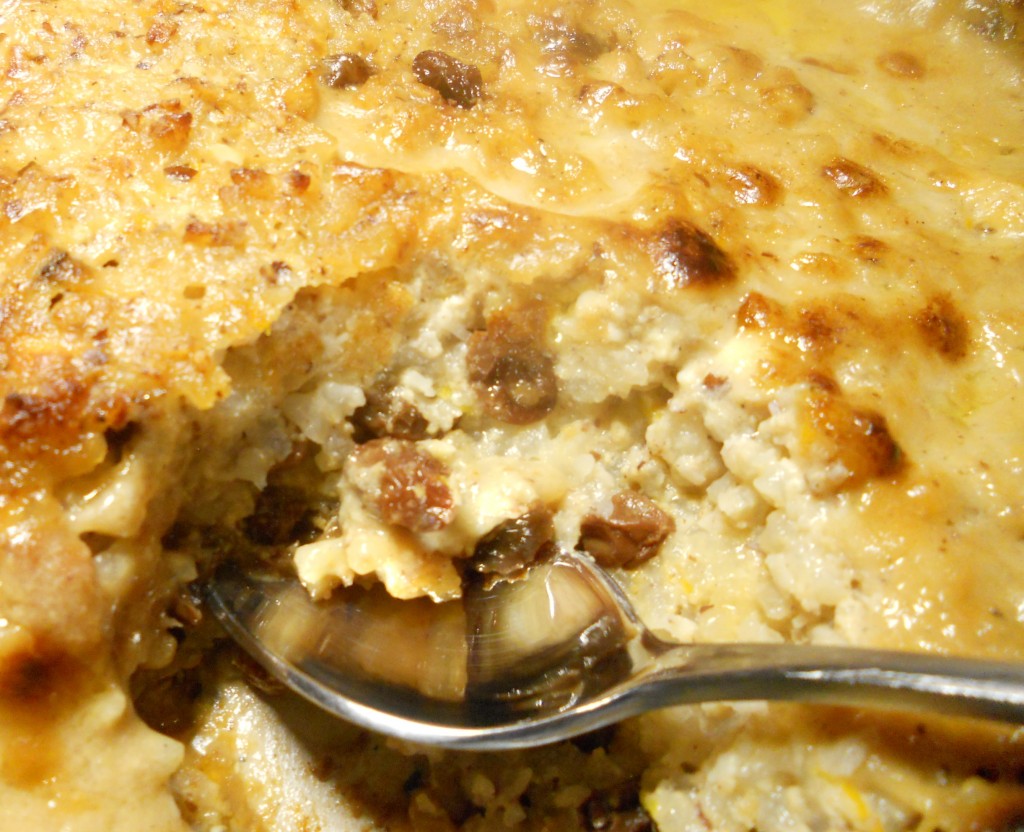 I love rice pudding but often find it sweet and cloying, altogether too reminiscent of school dinners for my liking. This one satisfies my need for a rich dessert without being sickly – the recipe doesn't use much sugar, with most of its sweetness coming from the raisins.
We sometimes forget about desserts when we're refuelling after a race or long run. Mistake! A hearty rice pudding can round off a recovery meal nicely, as well as providing a good source of calcium and Vitamins A and D. We reduce the fat content in this recipe by using skimmed milk, but add Greek yoghurt to give it a creamy taste. This is not a low cal dessert then (what would be the point in that?) but it's much healthier than a traditional full-fat cream and whole-milk rice pudding.
Note that this is an old-fashioned baked rice pudding; it's not runny like shop bought varieties, which means it's great cold and is good for packed lunches too. You can make this plain too – simply substitute a can of evaporated milk for the coconut milk and leave out the orange zest, raisins, almonds and coconuts.
Spiced Rice Pudding
Makes 6-8 servings
Ingredients
110g pudding rice
400g (1 can) coconut milk
400ml skimmed milk
50g Demerara sugar
100g Total Greek yoghurt
75g raisins
50g chopped nuts (we used a mix of almonds and hazelnuts)
25g dessicated coconut
Zest of half an orange (optional)
Half teaspoon cinnamon
Half a nutmeg, grated
25g butter
Method
1 Preheat the oven to 150C / 300F / Gas Mark 2 / 140C Fan Oven.
2 Lightly butter an ovenproof dish.
3 Toast the coconut lightly in a pan over a medium heat until it just starts to brown. Note: keep a close eye on it – it can burn very quickly.
4 Starting with the rice, place all of the ingredients except the nutmeg and butter in the dish and stir well.
5 Sprinkle with the grated nutmeg then dot with the butter.
6 Bake for 30 minutes, then stir thoroughly. Stir again after another 30 minutes then leave to cook for another hour. Place a sheet of baking parchment over the top if it starts to brown too much towards the end of cooking.
Serve warm with creme fraiche, Greek yoghurt or fruit compote.