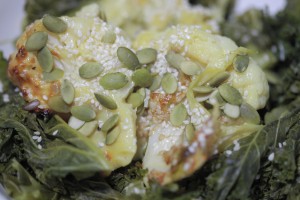 Photo by Zsolt – www.zsoltsandor.com
This recipe has been passed down through our family for generations. Not by my mother, who is a wonderful woman but – god love her – not what you'd call much of a cook. No, sorry, I malign her unfairly: she can knock up a 70s-style buffet from nowhere and out of nothing, which is a skill and half and no mistaking. No one can make a cheese and pineapple Sputnik like she can.
So this recipe isn't a zillion years old but it has an honourable history in our family. It was created by my lovely late brother, Mark, and we still cook it now, partly in his honour* and partly because it's the finest kind of cauliflower cheese we've ever tasted. No slop, no blandness – this has a sharp, cheesy zing and a shed load of lovely crunch.
Cauliflower is low-carb so cook a jacket potato alongside it to keep a healthy dose of carbs in your diet. The dish has plenty of protein (the Greek yoghurt gives an extra boost), calcium and fibre.
Crispy Baked Cauliflower Cheese
Serves 4
Ingredients
1 large cauliflower, cut into florets
350ml skimmed milk
50g Greek yoghurt
40g plain flour
40g butter
150g mature Cheddar cheese, grated
1 teaspoon English or Dijon mustard
Salt and black pepper
Handful each of sunflower, sesame and pumpkin seeds
Method
1 Heat the oven to 400F / 200C / Gas Mark 6 / Fan 180C.
2 Steam the cauliflower for about 8 minutes (just long enough for it start getting tender – it will cook more in the oven so don't let it get too soft).
3 While the cauliflower is steaming, make the sauce.
4 Melt the butter in a saucepan and add the flour. Stir constantly for one minute, then slowly add the milk. Keep stirring, using a whisk if necessary to avoid lumps forming. When all the liquid is added, bring the sauce slowly to the boil, stirring constantly, then reduce the heat and simmer for one minute.
5 Remove the pan from the heat and stir in the mustard, Greek yoghurt and two thirds of the grated cheese. Season to taste.
6 Place the cauliflower in an ovenproof dish. Pour the cheese sauce over it, then sprinkle on the rest of the grated cheese and the sunflower, sesame and pumpkin seeds.
7 Bake for 25-30 minutes, until the top is crispy and golden. Note: if the top starts to get too brown, place a sheet of foil over  it for the last few minutes of cooking.
Serve with salad or steamed vegetables, plus a jacket potato if you need to add some carbs.
*This summer I ran 96 miles along the West Highland Way in Scotland to mark the 20th anniversary of Mark's death and raise money for Macmillan Cancer Support. My Just Giving page has now closed – endless thanks to everyone who donated – but there's a photo of Bibi as a 4 year old on there; it's worth opening just to see how cute she was when she was little.