Ho, ho, ho – here we go! 'tis the season to be stuffed, bloated and give terrible yourself belly ache. Well, actually, that isn't strictly necessary, is it? It is the season to eat fabulous food if you get the chance but you don't have to make yourself ill in the process. And don't forget: if you're lucky enough to be able to run, your legs don't suddenly shut down when the shops do. Pull on your trainers and treat yourself to a run or two over the holidays. You'll be glad of it, if only for the break from the seasonal tunes that get – pardon our language – bloody, goddamned everywhere!! Here are our suggestions for some vegetarian festive feasting that won't  break the bank or make you look like Santa. Happy Holidays! 🙂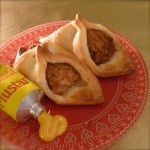 Vegetarian Pigs in Blankets – We guarantee that these will be the most-appreciated party snack you will ever make. If you make them and there are some left over at the end of the evening, we'll eat our sweaty running hats.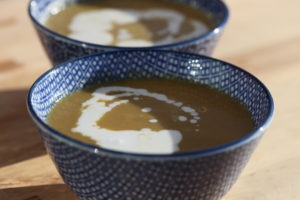 This Vegan Spiced Pumpkin Soup recipe is a delicious appetiser for the main meal. It's easy to make too – prepare it the day before if you're short on time and hob space. Substitute butternut squash if you can't source pumpkin.
Porcini and Cashew Nut Roast – This nut roast recipe is the best you'll find. Guaranteed. Seriously, throw all your old nut recipes away; you'll never look at them again once you've tried this. Can be made vegetarian or vegan.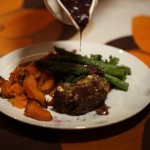 Mushroom and Red Wine Gravy – The perfect accompaniment to your nut roast and economical too (it uses the water from soaking the porcini mushrooms). It's easy peasy to make but tastes really fancy shmancy. Result! Vegan.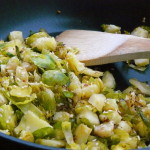 You need a bit of green with your meal so try our Spicy Sprouts And Parsnips or Roasted Cabbage. You'll be wanting roast potatoes too. Our Harissa Roasted New Potatoes liven up the spud sector of Christmas dinner very nicely indeed (you can use old potatoes instead, of course). All vegan.
This Vegan Cherry Chocolate Tiffin is rich, delicious and tastes very special. We first created this tiffin treat for our Post-Race Vegan Brunch, featured in The Guardian, and have made it many, many times since then. We guaranteed that you'll do the same – once you've tried it, there's no going back…
So there you go – all the Vegan Christmas Dinner Recipes you need on one print-friendly page! We're just like helpful little elves, really…