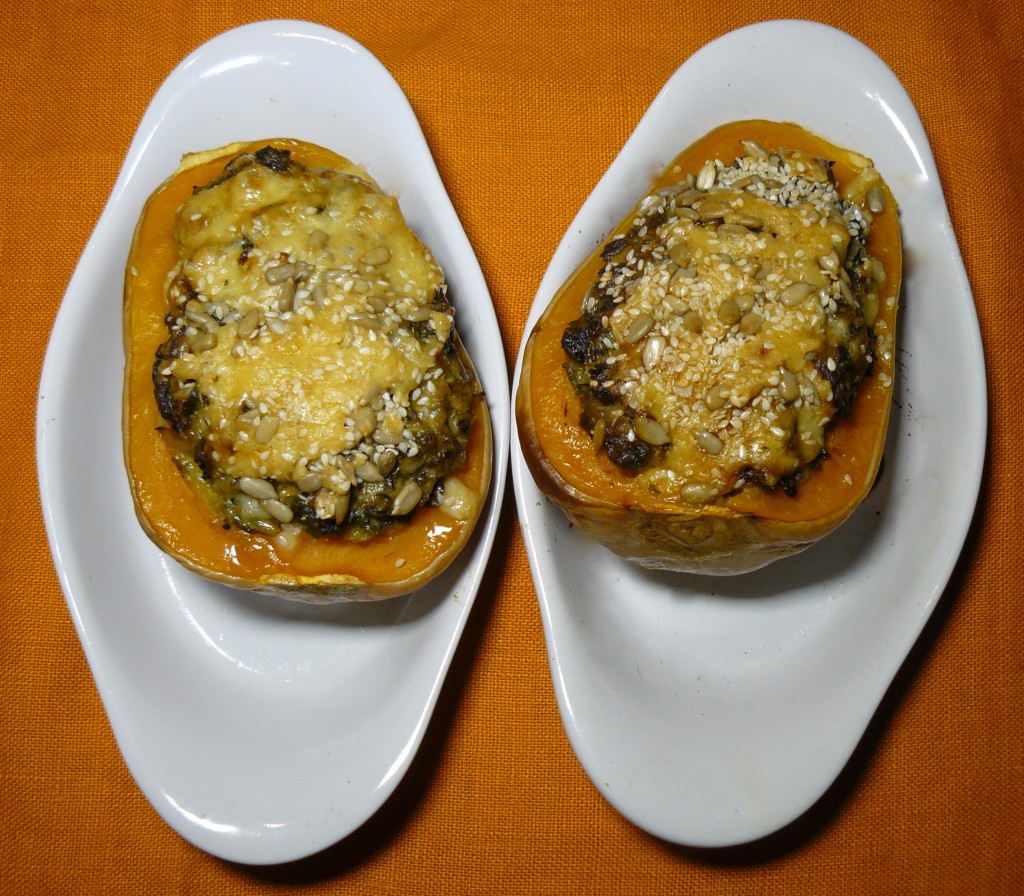 We have some great recipes for squash on the blog. Our Best Roasted Butternut Squash Ever is a real winner, mainly because it's name tells the truth, the whole truth and nothing but the truth. Our Spicy Butternut Squash Soup With Paneer Croutons is also delicious and hugely popular. And the all-time favourite recipe with readers is our Butternut Squash and Sweet Potato Lasagne.
How's a new butternut squash supposed to compete with recipes like that? This one sat forlornly in the vegetable basket for a few days while I waited for inspiration. It came to me in a flash, as these things are wont to do. 'Hey,' I thought, 'why not pretend you're one of those 1960s vegetarians? Take it old school, stuff it like your grandma would have stuffed it had she ever come across a butternut squash in Middlesbrough.'
So get your flares on, shag your hair (I think that means layer it a bit!) and groove into the kitchen with me to get some squash on. You'll soon discover that it wasn't all the sex and drugs that made them so happy in the 60s. Oh no, it was stuffed squash with lightly steamed vegetables that did it. It's a shame that this important piece of social history has been lost in the mists of time…
This is a great carb loading dish. Plus squash practically oozes Vitamin A and it's a good source of Vitamin C too.
Stuffed Butternut Squash
Serves 2
Ingredients
1 butternut squash
1 leek, sliced
3 mushrooms, finely chopped
2 cloves garlic, sliced
100g kale or savoy cabbage, finely chopped
1 tablespoon half fat creme fraiche
100g strong Cheddar cheese
1 dessertspoon sesame seeds
1 dessertspoon sunflower seeds
Oil for frying
Method
1 Preheat oven to 180C / Fan 170C / Gas 4 / 350F.
2 Cut squash in half lengthwise. Scoop out seeds and pulp. Steam for 15 minutes.
3 Saute other ingredients (except cheese, seeds and creme fraiche) for 10 minutes.
4 Remove sauteed ingredients from the heat and mix in creme fraiche and most of the cheese.
5 Place the butternut squash halves in a baking dish and stuff the hollows with the vegetable mix.
6 Mix the rest of the cheese with the seeds and pile on top.
7 Bake 30 minutes.