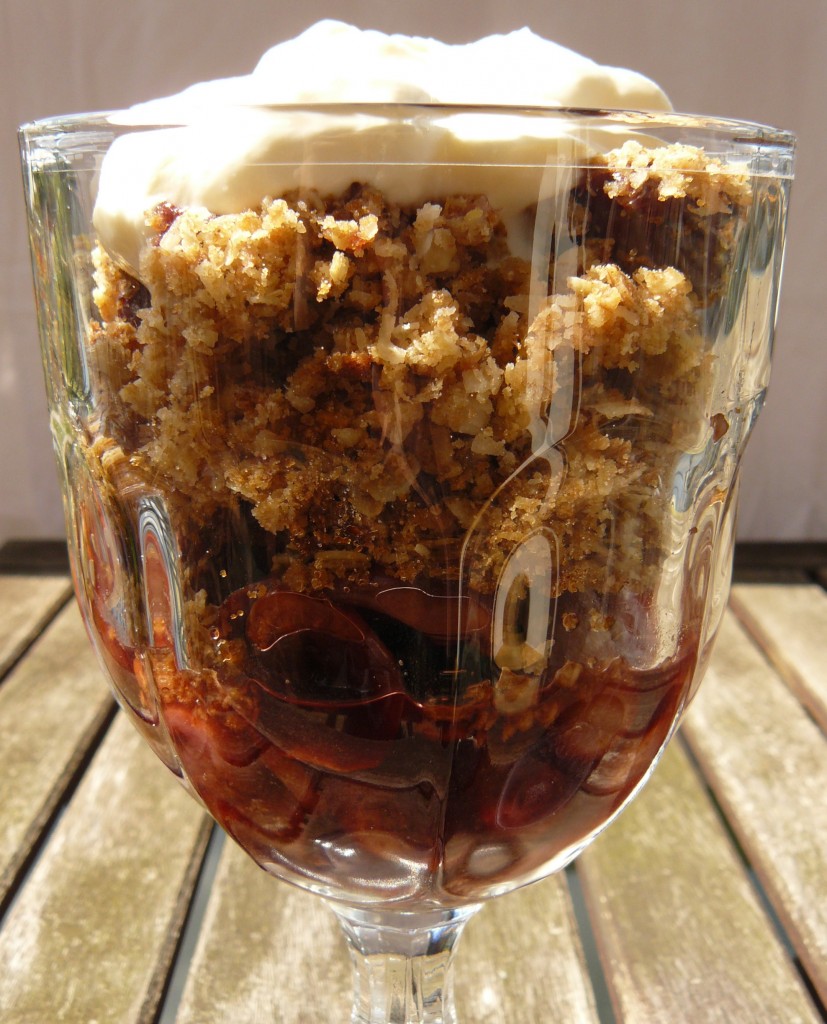 At closing time on Saturdays, the traders at our local market get rid of tons of produce for next to nothing, making way for new stock coming in after the weekend. I've been known to come home with bags full of plums (jam for the making of), avocados (guacamole, anyone?), tomatoes, cauliflowers, carrots, sweet potatoes, aubergines – more or less anything they're keen to get rid of. It makes our menu somewhat unpredictable but, hey, cooking's a creative art, right?
This week I bought a mountain of cherries for one pound sterling (compared to supermarket prices, that is very, very cheap). As regular readers will know, we make a mean fruity dessert – try our Apple and Ginger Crumble, for example – but these cherries seemed to warrant something just a teeny bit different. Still easy, of course – faffing about with desserts is not our way. We like the stick-it-in-the-oven, be-stunned-by-how-delicious-it-is kind.
We like to remind runners that desserts can be part of your carbo loading regime too; this one's not loaded with them but it does have rolled oats and wholemeal flour. It doesn't have too much sugar in it either – the coconut in the topping helps to sweeten it and the cherries don't need much; they're sweet enough already. This is great cold too, so fab for picnics
Cherry Coconut Crunch
Serves 6
Ingredients
For the filling
400g cherries (unpitted weight)
1 dessertspoon Balsamic vinegar
1-2 tablespoons brown sugar
For the topping
50g rolled oats
50g wholemeal flour
1/4 teaspoon cinnamon
50g butter, melted (or non-dairy spread if you want a vegan dessert)
30g brown sugar
30g dessicated coconut

Method
1 Preheat the oven to 180 C / 170 Fan / 350 F / Gas 4.
2 Pit the cherries and place them in a pan with the balsamic vinegar and 1 tablespoon sugar. Heat gently until the sugar is dissolved. Taste – if it's sweet enough for you, leave out the rest of the sugar. If not, add the other tablespoon.
3 Simmer for 5 more minutes, until the juice starts to leak from the cherries. Set the pan aside while you make the topping.
4 Place all of the ingredients for the topping into a large bowl and mix together well. The mixture should be like breadcrumbs – it won't bind together.
5 Using a slotted spoon, place the cherries in the bottom of an ovenproof dish (keep the liquid for drizzling when you serve it).
6 Spread the crunch topping over the fruit. Cook for 25-30 minutes, until the topping turns golden brown.
Serve hot or cold. This is lovely with ice cream, half-fat creme fraiche or natural yoghurt, with some of the cherry liquid drizzled on top.