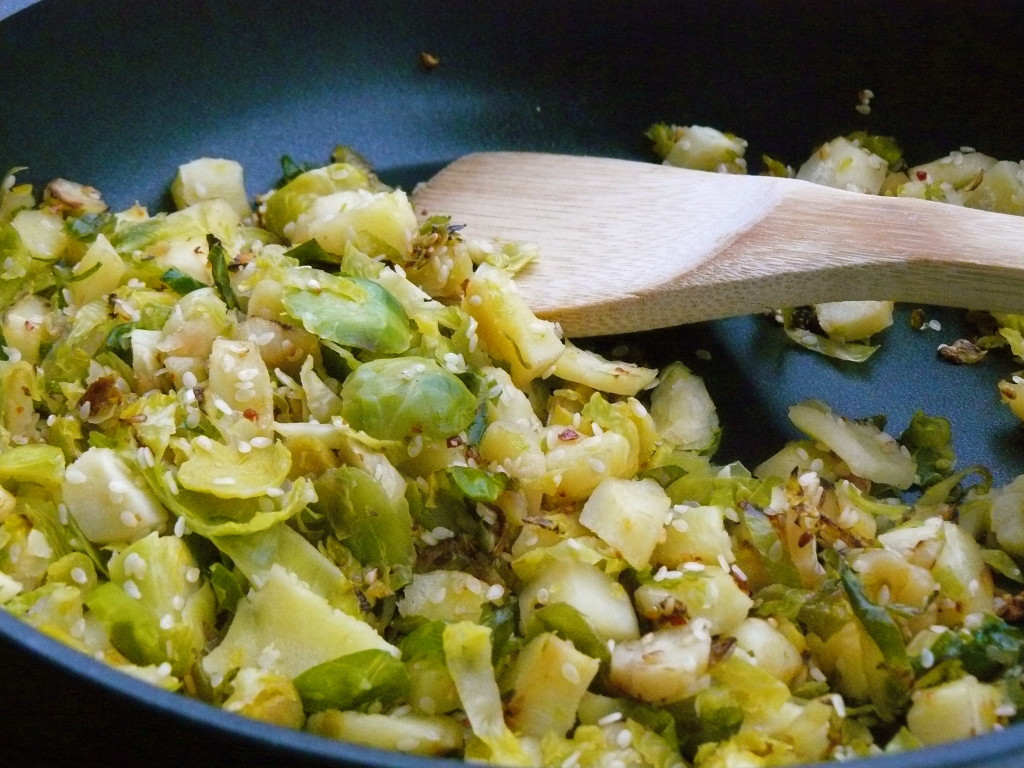 Lots of people hate sprouts, or at least they think they do. It may be something to do with overcooking (they do contain sulphur – which we need – but it's overcooking that gives then that icky sulphurous smell). Or prahps associations with seasonal stress and overindulgence makes them seem somewhat unappetising.
We're going to stick our necks out and suggest that this side dish will change the minds of sprout-haters for good and ever. With a lovely depth of flavour – not sprouty at all! – and a hint of heat, this will add a real zing to your Christmas dinner, and any other meal you'd care to use it in. Sprouts are for life, not just for Christmas, we say.
Sprouts are also, we should add, something of a superfood, bursting with Vitamins K and C and with anti-inflammatory, cholesterol-lowering, anti-oxidant properties too. Isn't that enough to make you fall in love with them? Seriously, you need sprouts in your life and this dish is one of the best ways of enjoying them.
This dish uses a Parmesan-style cheese (or strong vegetarian cheddar). If you'd prefer to make it vegan, just leave the cheese out – the dish is still great without it.
Spicy Sprouts And Parsnips
Serves 4
Ingredients
500g Brussels sprouts, sliced finely
3 large parsnips, diced finely
1 tablespoon sesame oil
2 tablespoons sesame seeds
2 cloves garlic, sliced finely
Half a teaspoon chilli flakes (optional)
40g Parmesan-style or strong vegetarian cheddar cheese
Method
1 Gently heat half of the sesame oil in large pan then add the diced parsnips, garlic and chilli flakes (if using). Saute, stirring for 2 minutes, then put a tight-fitting lid on the pan.
2 Cook for ten minutes, stirring occasionally. When the parsnips are starting to soften, add the sprouts and stir well.
3 Replace the lid and cook for another 5 minutes, stirring once or twice.
4 Heat a separate pan and toast the sesame seeds gently until just beginning to brown. Keep an eye on them – they burn very quickly!
5 Stir the toasted sesame seeds in with the sprouts and parsnips. Put the lid back on the pan and cook for another couple of minutes.
6 Remove from the heat and stir in the cheese (if using).
7 Serve immediately, drizzled with a few drops of sesame oil.