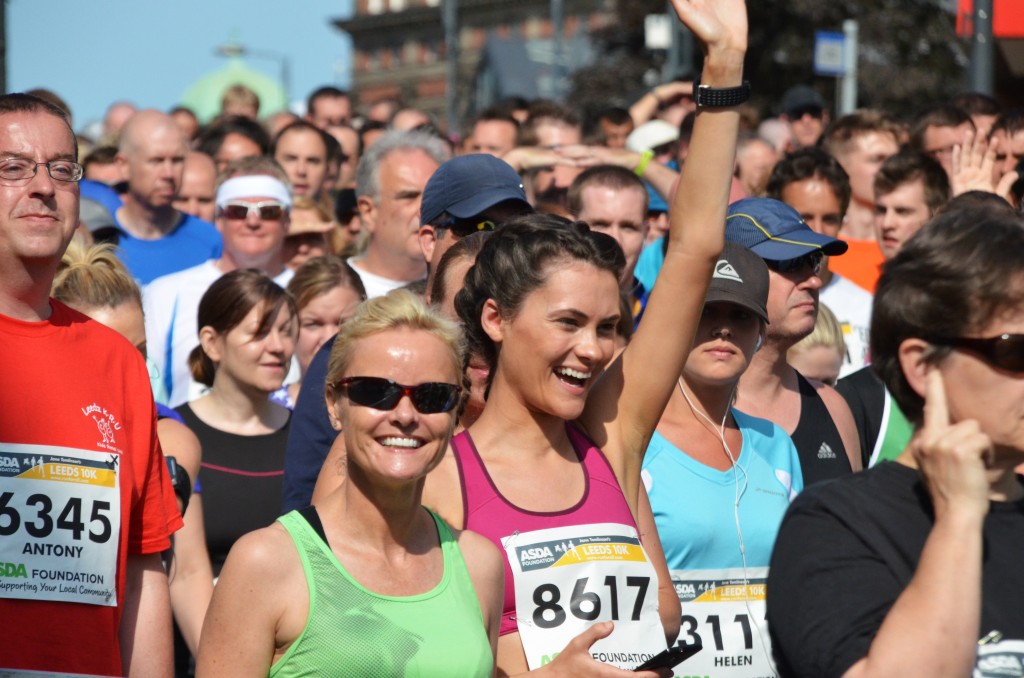 Photo: Zoe Illingworth
First, can we just say how much we love this photo by Zoe Illingworth, taken in the seemingly interminable queue for the start line at the Jane Tomlinson Leeds 10k. We had no idea she was taking it (clearly I go around grinning gormlessly all the time…) and only came across it when a friend forwarded it to us. It's a proper backstage moment for us. No bluffing, no posing – this is really how much we enjoy running! Massive thanks to Zoe for sending it to us. It's our new favourite photo by far. It's a fantastic reminder of a really enjoyable day.
We love the Jane Tomlinson Appeal, whose Run For All side-arm organised the event . We'll be running both the Great North Run and The Yorkshire Marathon to raise funds for the Appeal later this year. (Donations link to follow, of course!) There were definitely a few glitches in the Leeds 10k that need to be sorted out for future events. We shouldn't forget though that the JTA races are great for rallying new runners and motivating them and us to raise money for worthy causes, which can only be a good thing.
There's been some controversy about this Leeds 10k, not least the clumsy organisation at the start line. Ten thousand runners took part, with the vast majority of them, it seemed, all packed into a couple of streets with no clear time zones. Like everyone around us, we just followed the crowd until the road was so packed there was nowhere else to go. There have been complaints that the Corporate Challenge teams set off at the front at the same time as the elites and other speedy people, causing delays. We didn't see any of that but it might explain why it took a full 10 minutes to cross the start line when we were less than 1 minute's walk away!
The route for the Leeds 10k changed this year. In the past, it went out of town towards the leafy suburbs in the north of the city. It wasn't exactly pretty but it seemed to work pretty well. I've ran the race several times before and volunteered on it for Macmillan last year and have never heard anyone grumbling about the route.
This year, it followed nearly-but-not-quite the route of its more serious cousin, the Age UK Leeds Abbey Dash. I'm at a loss to understand why the route was changed. The old route was slower then the Abbey Dash, which is famous for its PB potential. But the Leeds 10k is more of a community event and, to my mind, shouldn't set itself up as a rival the hard core running club race. There's room for both and the Leeds 10k doesn't need to compete. The route change seems to be a mistake; there's nothing nice to see on the way, unless you're one of those rare people who see ring roads, industrial estates and garage forecourts as attractive.
Having said all that, we really enjoyed the race. The atmosphere was lovely. I love races where lots of people are running for charity. The higher cause/better world thing about running – making a largely solitary pursuit a selfless one – brings tears to my eyes every time.
It was boiling hot – in the mid-20s celsius by the start of the race. This won't mean much if you're the Death Valley ultra marathon type but for people used to training in rainy England, where the mercury rarely rises to double digits, the temperature was torture.
There were clusters of people lining the route to cheer us on, though not as many in previous years, which is another downside of moving the race away from a populated area. There was a marked absence of the casual supporters who just wander out of their houses and bring the kids to high five the runners, which was a shame.
A major bonus at about 6k was the guy at the car wash who sprayed overheating runners down. Bliss! He looked so happy to be making people feel better too. It's the little things…
We took it easy – no attempts at PBs in that heat – and, for the first time ever, ran separately after the first 5k. We both got personal worsts – Bibi at 54.35, me at 55.15 – but we did exactly what we planned to do, which was not to die of heat stroke so we were pretty pleased overall.
The technical tee is quite styling, though as ludicrously over-sized as ever. Race organizers of the world: how hard is it to get small tee-shirts that are actually small?! A bit surprised to get chocolate cakes in the goody bag for our recovery food. Given that this is a charity event promoting health awareness, the least they could do is provide some kind of healthy snack. The major sponsor is Asda… If you need some consultants on healthy post-race snacks, you know where we are, Asda!