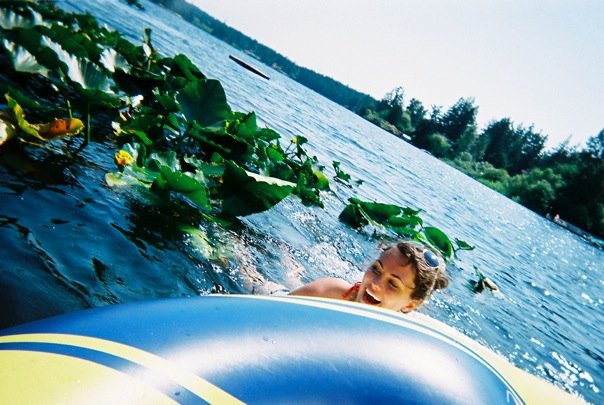 Until about a year ago, the only time I ever went swimming was on holiday. When I was on holiday, I loved it – like in the lake on Vancouver Island in the picture above, the cobalt sea in Croatia, or dips in pools in Greece – but I would forget all about it when I came home. But once I got it in my head that I want to do a triathlon in 2014, I realised I had some catching up to do.
I started out by taking adult improver lessons once a week for 3 months, then put in to practice some of what I learned by myself. When I realised that I was slipping again, and not really improving any more, I joined my local triathlon club to get some more proper coaching.
I love swimming now. I love seeing myself improve week on week, and I love how happily exhausted I am afterwards. I feel as shattered and starving after 40 minutes of swimming as I would after 2 hours of running, which to me is a lovely feeling (as long as there is so much food available nearby).
My style now is passable, nothing special, nothing embarrassing, which is a huge improvement on where I was. Though I recently swam my first ever 1500m all at once and I can't IMAGINE cycling then running afterwards, so I think I still have some way to go before the imaginary tri…
Here are a few of the things that I've learned from my little love affair with the pool.
Comment below with your tips for newbie swimmers, and aspiring triathletes, please!
Get some coaching, ASAP.
Bad habits are hard to break. Each swimming session, you'll do your stroke about 1000 times – anything you're doing wrong, will become "the way you swim" faster than you know it. Even a slight inefficiency in your style will really add up over time and absolutely conk you out.
At triathlon club, having feedback from a coach has been fantastic. Like seeing race photos of yourself where you think "I do WHAT with my legs?!" It's great having someone to tell you that the way you feel like you're moving your feet is not actually the way that they're flapping all over the place.
Take it Seriously
You don't have to push yourself to the limit a la wonderful Davina, but think about what kind of swimmer you'd like to be in 3 months, and make each session count towards that. You're still soaked through and have to get home with wet hair whether you chatter at the end of each length and coast through, or actually focus on improving your technique and efficiency.
Have a Proper Goal
My "do a triathlon" goal still feels a bit nebulous, seeing as I have a) not signed up for one and b) don't actually have a bike. So, I joined a more concrete swimming challenge to keep me motivated. Between now and the end of March, I have promised to Swim The Tees (erm, except in a pool, and not all at once). I'm away during the Sport Relief Swimathon, but I think that would be a brilliant goal to aim for, and there are participating pools all over the country.
Get Some Kit
The barrier to entry for swimming is possibly the lowest for any sport. My must-have kit only cost:
Swimsuit – Sports Direct – £8
Goggles – Wiggle – £13
Microfibre towel – Poundland – £1
Because I'm doing the Swim The Tees challenge, my swims are only £1, too. So cheap!
(Just this once) Labels Matter
I've experienced a huge mind-shift in the way I view my swimming since I started calling the stroke "free-style" in my head rather than "front crawl". Just LOOK at those words. Which would you rather be a part of? Free-style makes me feel like a rapper. A bit.