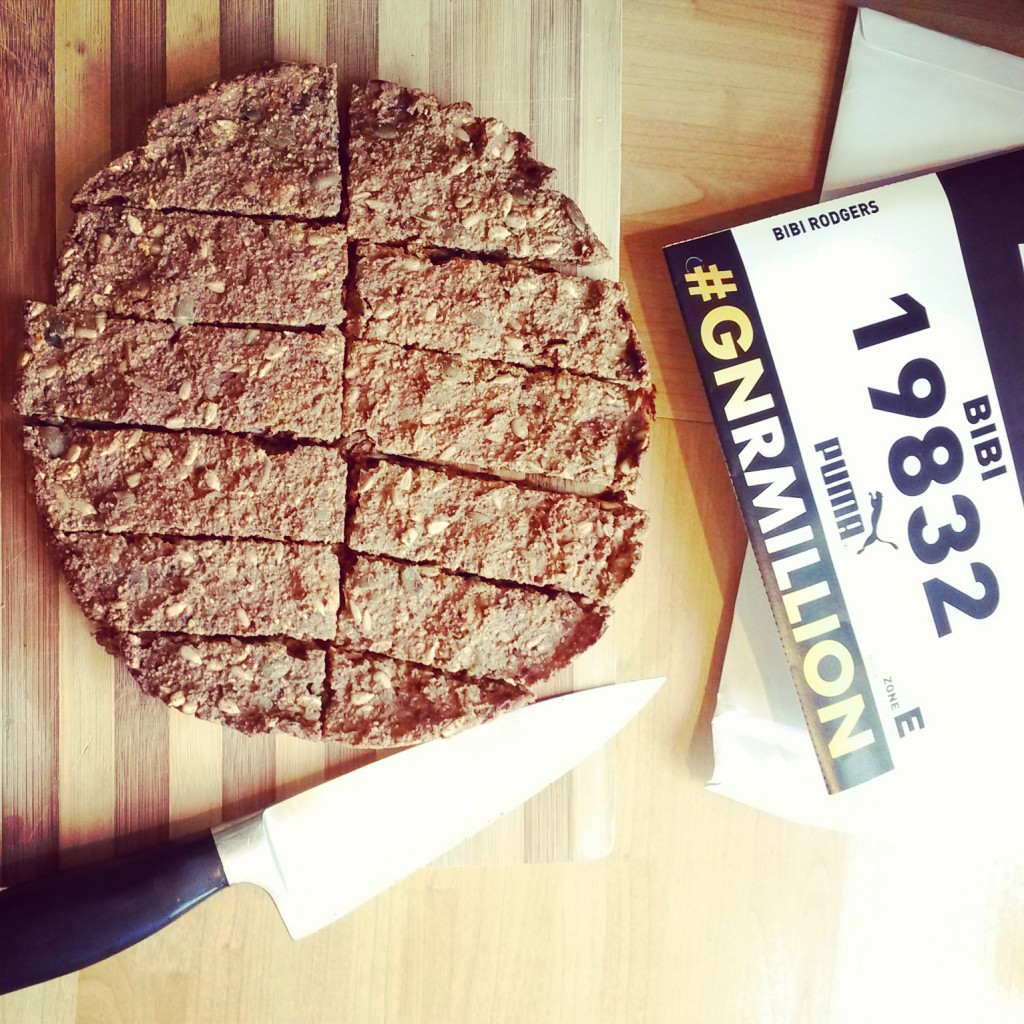 It is a truth universally acknowledged that a woman, upon finishing a half-marathon, will be in want of ALL THE FOOD. I created these protein filled bars to save my life after the Great North Run.
They're based on a recipe from the really wonderful Oh She Glows, who does incredibly beautiful vegan recipes. Her recipes have been helping me navigate my way as a dairy-free veggie, as they're so simple and inventive. Plus,  I'm more excited for her impending baby than I ever will be about any silly royal baby.
Any nuts and seeds are good in my version – whatever you've got in the house. I've been on a kick making them, testing the recipe, and have had success with mixtures of  sunflower seeds, brazil nuts, walnuts, hazelnuts, chia seeds and even boring old peanuts. The world is your oyster.
I've been using Rawlicious protein powder for this recipe, which seems to melt away and doesn't leave a chalky taste like some can. If you don't have protein powder, just substitute an extra half-cup of oats to keep the moisture levels right. You'll need a blender (or stick blender) to buzz the oats to a fine flour (I used my fantastic Froothie for this).
The gingerbread spices make them feel a bit treat-y, though they're free of added sugar and all-natural. I don't know if it was knowing that these were waiting at the finish line for us, but we managed to knock 3 minutes 30 off our record from last year…
Gingerbread-Spiced Protein Granola Bars
Gingerbread-Spiced Protein Granola Bars - delicious protein bars that are great for post-workout refuelling
Recipe type:
Protein bars
Ingredients
Spices
¼ tsp ground cloves
½ tsp ground cinnamon
½ tsp vanilla extract
Dry Ingredients
1 cup oats (if you want the bars to be gluten-free, make sure to use certified GF oats)
2 cups nuts and seeds of your choice
½ cup vegan protein powder
Wet Ingredients
1 cup dates, roughly chopped (dried or fresh)
½ cup raisins
1½ cups warm water
½ tsp miso paste (or sea salt)
1 inch piece of root ginger
Optional extras
½ cup crystalised ginger, chocolate chips or dried cranberries
Instructions
Preheat oven to 160 degrees
Line your tin with baking parchment roughly.
Blend the oats in your food processor to make a fine flour
for this).
Mix this with the spices and protein powder, if using, in a large mixing bowl.
Soak your raisins and dates in warm water for 5 minutes, then blend in the food processor with the miso and root ginger. Blend for a good long couple of minutes to ensure the ginger is all turned to mush.
Pour the date mixture into the dry ingredients and stir thoroughly, to ensure there are no powdery pockets lurking at the bottom.
Blend 1 cup of your nuts and seeds for a few seconds to make a fine rubble, then tip into the other ingredients.
Roughly chop the other cup of nuts, and add to the mixture and stir.
If you are using any of the option extras, you'll want them hidden at the bottom, so the sugars in them don't burn in the oven. So, spread them on your baking parchment before pouring the mixture over. Wet your hands, and spread the mixture with your fingers.
Bake to 20-25 minutes, until it begins to colour and becomes a bit more firm to the touch.