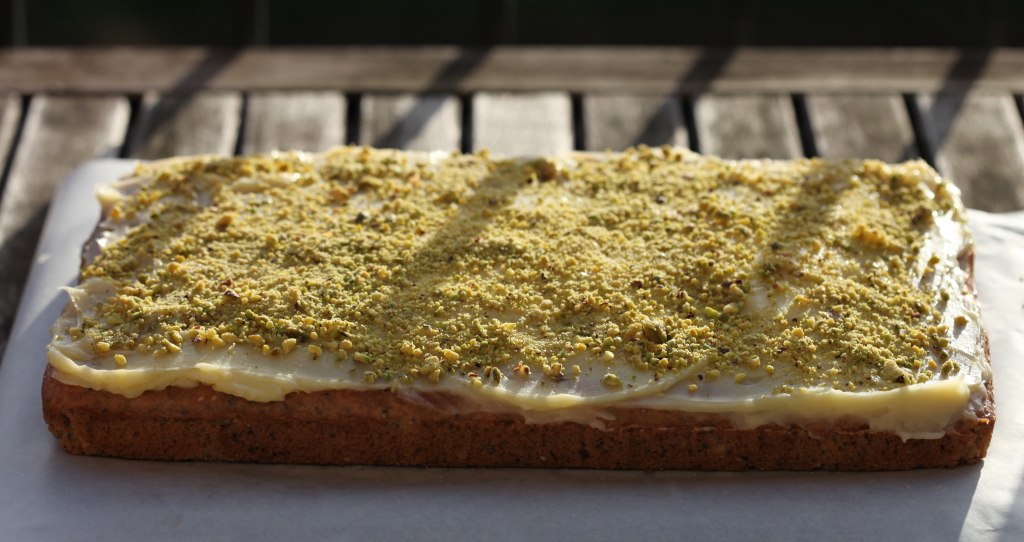 We believe our greatest gift to humankind is our invention of the post-marathon recovery cake. No doubt our OBEs are in the post. This Vegan Rosewater and Pistachio recovery cake, created for our recent Yorkshire Marathon efforts, was so good we ate it all before I had chance to take any photos on the day. Still, at least that gave me a good excuse to make it again.
This cake has pistachios and chia seeds for protein and, of course, it has carbs too (it is cake, after all), making it the perfect post-workout treat. The lightly fragrant rosewater adds a lovely twist. The resulting cake is moist and spongy but very easy to make. None of that delicately folding flour in – this is robust enough to make in a blender. I used my fantastic Froothie blender, which whipped it up a treat.

Vegan Rosewater and Pistachio Cake
Delicious Vegan Rosewater and Pistachio Cake - with nuts and chia seeds for added protein, making this a great post-workout recovery cake
Ingredients
For the cake:
250ml soya or almond milk
125ml vegetable oil
225ml soya yoghurt
3 tablespoons rosewater
250g plain flour
1 teaspoon bicarbonate of soda
1 teaspoon baking powder
175g brown sugar
100g pistachios, ground
1 tablespoon chia seeds
For the frosting:
125g vegan margarine
150g icing sugar
1 teaspoon cider vinegar
25g pistachios, ground
Pinch salt
Instructions
To make the cake, first preheat the oven to 180C / 170Fan / Gas4 / 350F.
Grease and line a 12inch x 9inch baking tray.
Place the soya milk, vegetable oil, sugar and rosewater in a blender (or a large bowl if you're using a whisk). Mix together on a high speed until the mixture is frothy.
Add all of the other cake ingredients and blend well.
Pour into the lined baking tray and bake for 30-35 minutes until a skewer comes out clean.
Place the baking tray on a cooling rack and set aside to cool.
To make the frosting, place all the ingredients except the ground pistachios in a bowl or blender and mix together well.
Spread on top of the cake with a palette knife.
Sprinkle on the pistachios.