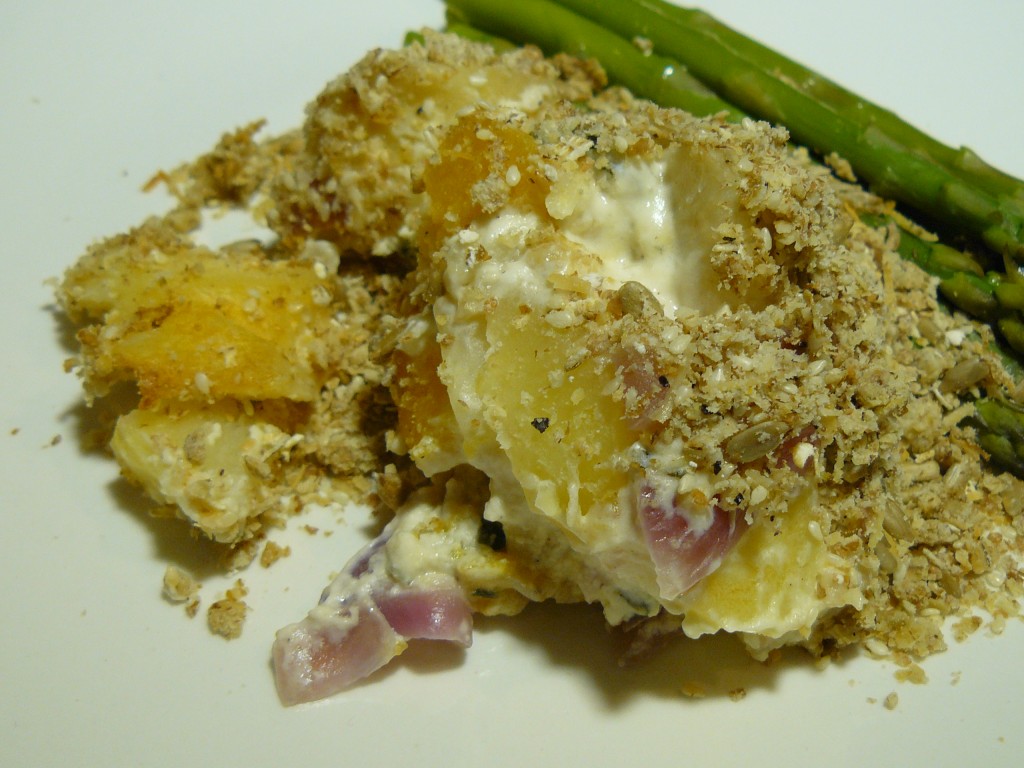 There are some vegetables that strike fear in my heart. Celeriac comes top of the list. I mean, it looks like an Ood (if you're not a fan of Doctor Who, a) why not?! and b) this is an Ood). That is to say, it's not an attractive vegetable and so gnarly and strange it's hard to know what to do with it.
I'm a fool to be fearful though. OK, so it doesn't look much like food but looks can be deceiving. As well as being delicious, it's a great food for runners (and everyone else). It's low in calories and high in fibre and a good source of Vitamin K, phosphorous, manganese, iron, calcium and copper, making it an all round winner for your cells, your bones and brain. Who'd have thought one so ugly could be so full of goodness? 
Celeriac and Sweet Potato Savoury Crumble
Serves 4
Ingredients
For the filling:
Half a head of celeriac
2 parsnips
1 sweet potato
2 heaped teaspoons fresh oregano (or 1 teaspoon dried)
Large pinch of grated nutmeg
1 red onion, roughly chopped
2 cloves garlic, finely sliced
300ml half-fat creme fraiche
1 tablespoon oil for frying
Black pepper to taste
For the crumble:
70g porridge oats
50g wholemeal flour
40g butter
25g sesame seeds
25g sunflower seeds
40g Parmesan-style hard cheese or mature cheddar*
Pinch salt
Method
1 Preheat oven to 190C / Gas 5 / 375F/ 180 fan.
2 Cut the celeriac, parsnip and sweet potato in smallish chunks – 2-3cm square. Steam for 15 minutes (or until tender but not mushy).
3  Gently saute the red onion and garlic in the oil for 5 minutes.
4 In a large bowl, place the porridge oats, wholemeal flour, salt and butter. Rub with fingertips until it resembles very course breadcrumbs (it's porridge – it's never going to get smooth!) Mix in all of the other crumble ingredients.
5 Place the steamed vegetables in another bowl and add the onions and garlic. Then add the creme fraiche, oregano, nutmeg and black pepper. Mix well until all the veg is coated with the creme fraiche.
6 Place the vegetable mix in an ovenproof dish and spread the crumble mix on top.
7 Cook for 30-40 minutes until the crumble is golden on top.
Serve with steamed vegetables.
*Real Parmesan (trademarked, copyright protected etc) isn't vegetarian. There are loads of substitutes on the market though. Look for the vegetarian symbol on hard cheeses.