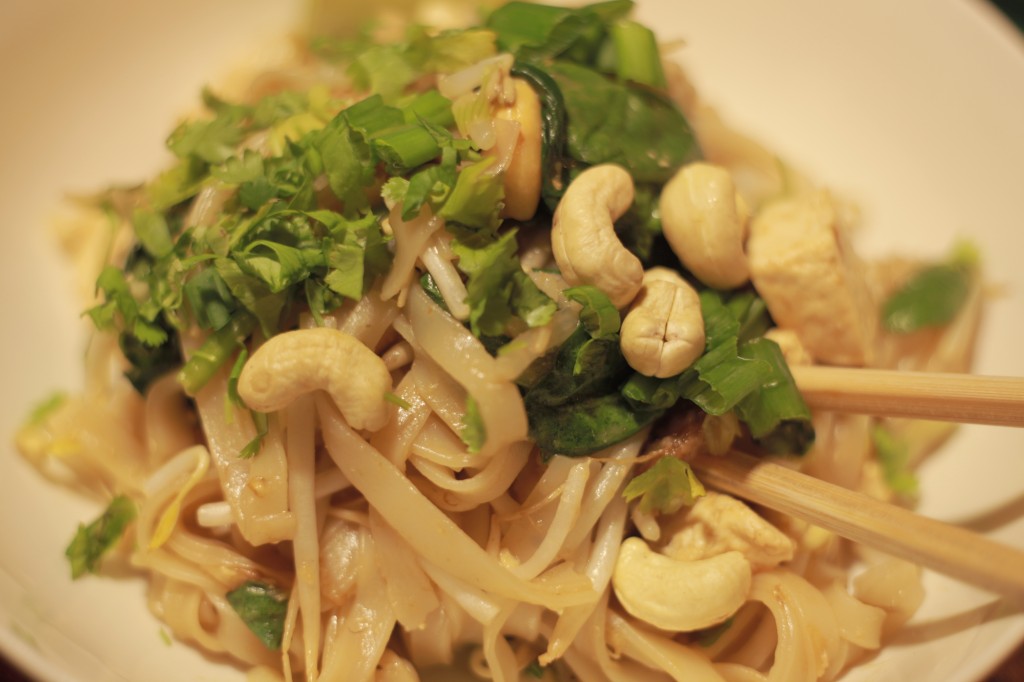 Pad Thai can be a bit of a faff to make. There are a lot of ingredients and it can look a bit daunting. If you've read our recipes before, you'll know that we don't like to operate like that. We love great food and appreciate that it can take time to get a dish just right.
However we're not big on making life complicated, so even though this Pad Thai is delicious we've tried to cut out the complexity. If you're seeking a recipe for a 100% authentic Pad Thai made with lemongrass slow grown by moonlight on the banks of Choa Phraya or something, maybe try this one from Real Thai Recipes.
We opted for speed and simplicity, making use of the kind of everyday ingredients most vegetarians cooks will have in their cupboards. Plus, we recommend getting everything prepped before you start cooking. The whole thing will come together quickly once you start and you don't want to let your life get too complicated.
There's plenty of protein in here – tofu, cashew and (purists look away now!) peanut butter – and, of course, a heap of carbs in your rice noodles.
If you have a favourite recipe that uses peanut butter, let us know in the comments below. We're happy to try PB in more or less anything!

Image by Zsolt: www.zsoltsandor.com
Tofu and Cashew Pad Thai
Cuisine:
Thai, Asian, Vegan
Ingredients
3-4 spring onions, sliced lengthwise (no need to be precise - just longways rather than little circles)
2cm piece fresh ginger (about a teaspoon), grated
1 fresh red chilli, sliced finely or half a teaspoon chilli flakes
3 cloves garlic, crushed or grated
3 cups beansprouts
⅓ cup fresh coriander
Handful cashews
400g firm tofu, cubed
2 large handfuls fresh spinach or pak choi
150g rice noodles
For the paste:
3 tablespoons light soy sauce
1 tablespoon crunchy peanut butter
1.5 tablespoons tamarind paste
2 teaspoons brown sugar
Half teaspoon chilli flakes
¼ cup vegetable stock
1 tablespoon sesame oil for frying (though vegetable oil will do)
Handful fresh coriander
Lime wedges
Instructions
Cook the noodles according to the instructions and refresh them in cold water. Set aside to add later. Note: they should be slightly
undercooked -
knock a minute or so off the cooking time. They'll cook a little more when you stir fry them.
Make the Pad Thai paste by mixing all of the ingredients for the paste together.
Heat most of the oil in a wok and add the spring onions, ginger and chilli or chilli flakes. Cook for 3 minutes.
Add the cashews and tofu and cook for 4 minutes, stirring constantly.
Add a noodles and a third of the paste, stirring constantly. Keep adding the paste bit by bit and stirring until the noodles are cooked (they should be al dente and not sloppy).
Stir in the chopped spinach and bean sprouts. Put a lid on the pan and cook for one minute.
Remove from the heat and serve immediately. Sprinkle with fresh coriander and serve with a lime wedge.