Sometimes it's hard to be a food blogger (sing it like Tammy Wynette). Actually, that's not true – it's not hard, not even slightly. Especially when a restaurant like Chaopraya, gets in touch and asks if we'd like a lesson in cooking delicious Thai food. Why, yes, we most certainly would! Thank you, universe.
We spent an afternoon at the restaurant in Leeds learning how to make Vegetable Spring Rolls, Tofu Pad Thai (a real one, not like our very delicious but totally fake Cashew Pad Thai) and coconut banana fritters. As an extra special bonus, after creating each dish, we got to eat it – loads of it – in the delightful company of the other people taking the course.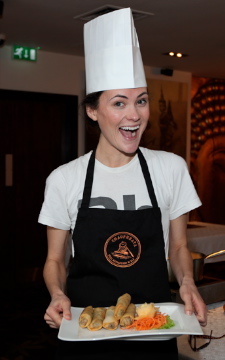 We learned some clever tricks for making Thai food – refrain of the day, 'Ooh, well I never knew that!' – and discovered that it's nowhere near as complicated as you'd think. All the dishes we made were really tasty – restaurant quality, you see – and the menu for the classes changes regularly so you could build up a repertoire of Thai recipes.
We'd totally recommend the course. It would make a great Christmas gift, birthday present or romantic date. Plus you get to learn and eat (lots), which makes it an absolute bargain.  We had a fab day and the food was fantastic. Indeed, we loved it so much, we went shopping at the nearest Thai supermarket straight afterwards and fed the family exactly the same dishes for dinner that night!
Contact Lynsey Miller –  lynsey.milner@chaophraya.co.uk – for more info and to book your place. Classes cost £60 but if you quote Veggie Runners it will cost you only £100 for two people. There are currently classes in Leeds, Liverpool, Glasgow and Manchester. Edinburgh and Birmingham will be starting classes in the new year.
We've been given special permission to share the Tofu Pad Thai recipe with you. Believe us, it's a winner.
Note: You need to make the tamarind sauce and soak the noodles in advance – they take about 30 minutes in total – but that's fine; you can be getting the rest of the ingredients lined up while that's happening.
Also, we bought pre-fried tofu but you can make it yourself by deep frying cubes of firm tofu in hot oil if you'd prefer.
Tofu Pad Thai
Serves 4
Ingredients
400g pre-fried tofu
90g dry rice noodles
50g fresh bean sprouts
4 spring onions, chopped in 2cm pieces
1 carrot
2 tablespoons light soy sauce
2 tablespoon preserved turnip
2 tablespoon crushed peanuts (keep 1 teaspoon aside for decoration)
2 eggs, beaten
1 teaspoon chilli flakes
1/2 lemon
Large handful chopped coriander
50g tamarind
1 tablespoon sugar
Vegetable oil for frying
Method
1 Make a tamarind sauce – cut the tamarind into 1cm chunks and cover with about 150ml boiling water. Stir in the sugar and leave to soak for about 20 minutes. Strain the sauce into a jug, discarding the pulp.
2 Cover the noodles with cold water and soak at room temperature for 30 minutes. They'll whiten and puff up slightly. Drain when they're ready.
3 Heat 2 tablespoons vegetable oil in a wok and add the beaten eggs. Break up the eggs as they cook so they distribute evenly through the Pad Thai.
4 Add the pre-fried tofu and heat thoroughly.
5 Add the noodles and mix until they start to wilt.
6 Stir in the preserved turnip and most of the crushed peanuts. Mix well.
7 Stir in the tamarind sauce.
8 Season with the soy sauce.
9 Add the bean sprouts, carrot, spring onions and half of the chilli flakes.
10 Stir well to ensure everything is mixed together.
11 Serve with a wedge of lime and a little heap each of chilli flakes and crushed peanuts.