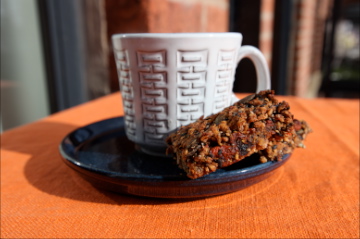 Goji berries are very good for you but, on their own, they don't really suit my palate. Nutrition experts will tell you they have a 'herby after-taste'. That may be true but my tongue reads it as 'ick, bitter, blurgh.' I need to blend them with a few choice ingredients to make them palatable for me so I created these fab flapjacks make goji berries. They taste great, not bitter-blurgh at all, which is useful because they're a fantastic food for runners.
They're rich in anti-oxidant Vitamin A and collagen-building Vitamin C, which is important for keeping cartilage, ligaments and tendons healthy. They're also a good source of iron, which female runners in particular are often deficient in. These flapjacks contain chia, pumpkin and sesame seeds to boost their protein content. They're also made with date syrup, which is a great natural sweetener that contains potassium, iron and magnesium. 
Quick and easy to make, these flapjacks keep well in an airtight container for a week or more. They also freeze well if you make extra. They're a top notch treat in your lunch box, fab for a recovery snack after working out and perfect for taking out on long walks and in your nosh bag on your bike rides. Oh, and they taste great with a cuppa. Suddenly, I love goji berries…

Goji Berry Multi-seed Flapjacks
Ingredients
350g rolled oats
100g goji berries
4 tablespoons hot water
3 tablespoons date syrup
50g pumpkin seeds
50g chia seeds
50g black or white sesame seeds
Zest of 1 lemon
Instructions
Preheat oven to 180C / Fan 160C / 350F / Gas 4.
Line a 7 inch square baking tin with greaseproof paper.
Soak the goji berries in the hot water for at least 10 minutes.
Drain the goji berries (save the water for a smoothie) and place all of the ingredients in a large bowl.
Mix all of the ingredients together well. It will be sticky - the easiest way to do this is to get your hands in there and squish it all together. If the mixture seems dry, add some of the water drained from the goji berries.
Spread the mixture in to the tin, pressing it into the corners.
Cook for 20-25 minutes (check after 15 minutes - if it's getting too brown place a sheet of tin foil on top).
Cut into squares while hot and leave to cool in the tin.