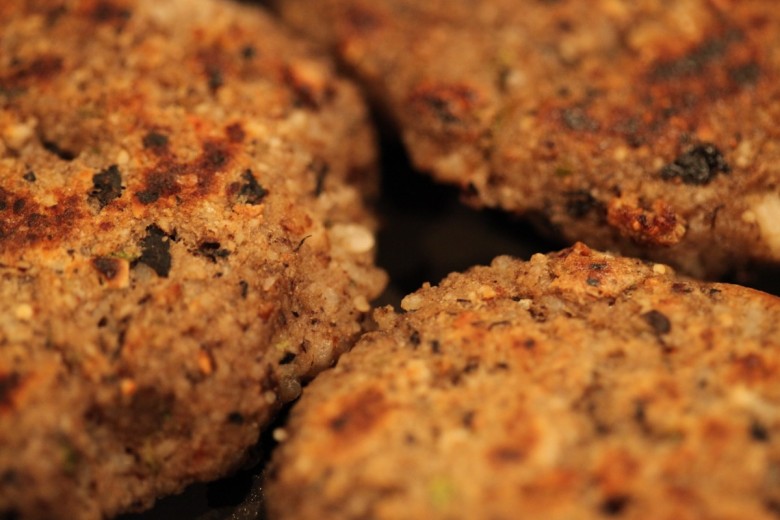 If you're not veggie already, these Vegan Porcini and Brazil Nut Burgers could help make this a lifetime habit! Whether you're a vegetarian, flexitarian, plant-powered athlete, or just giving Meatless Monday a go, these burgers will be a welcome addition to your repertoire.
All of our recipes are created for people with active lifestyles and are family-friendly so you can all enjoy meat-free eating together. These burgers are a doddle to make – just mix it all together and cook! The preparation time is 20 minutes but most of that is waiting for the rice to cook and the porcini mushrooms to soak. Maybe you can do some press ups and practice your plank while you're waiting. Or read a book if you're not feeling too energetic.
We like these burgers when we're deep in marathon training because they give a great balance of protein and carbs. Serve with a fresh, crisp salad and your favourite dressing and you have a perfectly rounded meal.  Big smiles all round.
Note: the rice and moist porcini mushrooms bind the ingredients together so you don't need egg or an egg replacer such as flax seeds for happy burgers that stay together.

Vegan Brazil Nut Burgers
Cuisine:
Vegan, Vegetarian
Ingredients
15g porcini mushrooms (soaked 20 minutes in a little boiling water)
About 20 Brazil nuts, finely chopped
1 clove garlic, finely chopped
2 cups (about 50g) cooked rice
Heaped teaspoon fresh oregano, chopped
6-8 chestnut mushrooms, finely diced
2 tablespoons of the water the porcini mushrooms were soaked in
2 tablespoons tomato puree
1 tablespoon soy sauce
Salt and black pepper to taste
A little oil for frying
Instructions
Drain the porcini mushrooms over a bowl, making sure to keep the liquid. Dice into very small pieces (about 2-3mm).
In a large bowl, mix the porcini mushrooms in with all of the other ingredients.
Use a potato masher or a stick blender to blend the ingredients together. It doesn't need to be completely pulverised - you can leave some texture and chunky bits - but the burgers will hold together better if the mixture is well blended.
Form into small burgers about 8cm in diameter. To do this, place a heaped tablespoon of the mixture in the palm of one hand. Use both hands to roll the mixture into a ball and then flatten the mixture between your palms.
Heat the oil over a medium heat until it starts to sizzle slightly. Add the burgers to the pan and cook over a medium heat for 5-6 minutes on each side. They're ready when they're starting to crisp on the outside and are heated all the way through.

This post was created in collaboration to encourage you to share your own favourite veggie recipes with BettaLiving.co.uk. Use the hashtag #bettaveggies to share and see what everyone else is rustling up to celebrate National Vegetarian Week.