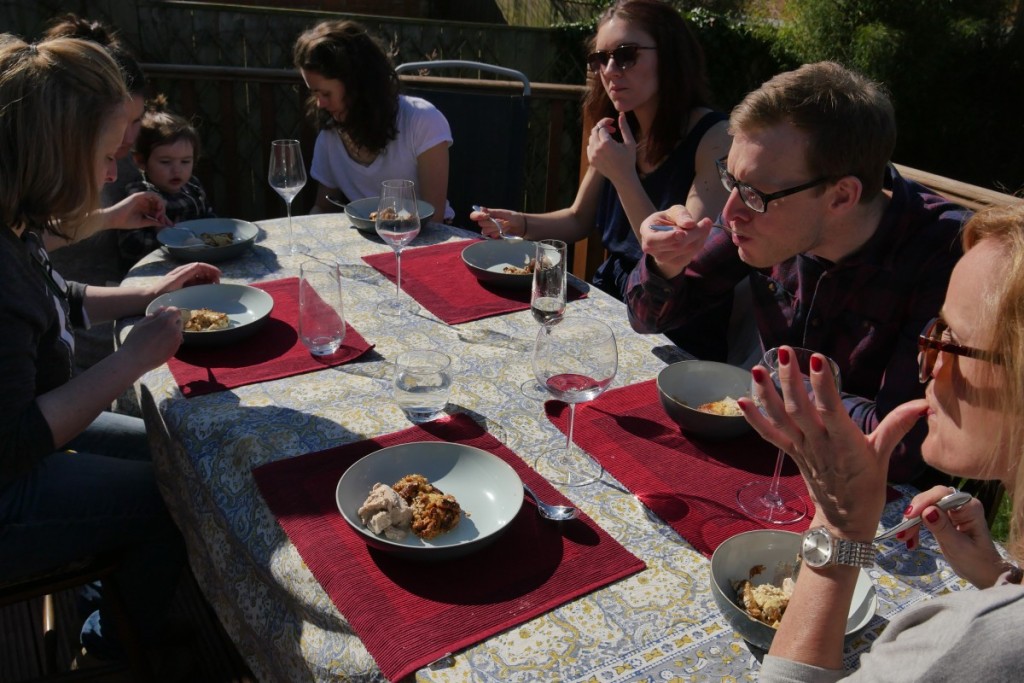 One of the great things about having a food and fitness blog, is that we get to experiment in the kitchen to create delicious recipes to tickle your taste buds, dear reader. Sometimes we get so carried away designing delectable dishes  – in this case a Vegan Bread and Butter Pudding – that we forget to write down the ingredients and have to make it all over again. Le grand sigh, it's a tough job but someone's got to do it…
This is one of those rare beauties, a dessert that's good for you, especially if you're training hard. It's a great carb loading dish with a smattering of dried fruit for quick energy and some protein for recovery, especially if you eat it with nut butter ice cream, as we did. Basically, you can eat this anytime and know that it's doing your running no harm at all.
We ate ours al fresco with friends and family, with sunshine and smiles on our faces. It made perfect sense of the Brazilian Ministry of Health's nutrition guidelines, which say that preparing and sharing food is a precious and important activity. Damn straight, we say! That said, you could just as happily eat this snuggled on your sofa on your own. It will still bring a happy to your face.
This recipe uses a vegan fruit loaf. If you can't find one of those, you can use any kind of bread and simply add dried fruit in the layers. We served this with peanut butter ice cream, a slight variation on Bibi's Vegan Almond Butter Ice Cream. Turned out to be the perfect taste combo and upped the protein content too.

Vegan Bread and Butter Pudding
Ingredients
8-10 slices of fruit loaf
3 tablespoons marmalade
3 tablespoons non-dairy spread
2 teaspoons flax seeds, ground
300g soya yoghurt
150ml soya or other plant milk
Half teaspoon ground cinnamon
3-4 drops vanilla essence
Instructions
Pre-heat the oven to 190C / 180 Fan / 375F / Gas 5
Grease a shallow ovenproof dish with a little of the non-dairy spread
'Butter' the slices of fruit loaf and spread with marmalade
Cut the slices in half and spread in layers in the dish, putting the marmalade face down on the top layer
Spread the top slices of bread with more non-dairy spread (this will help make the top of the pudding a bit crispy)
Mix all of the other ingredients together and pour over the fruit loaf, leaving the top slices slightly exposed. (If you have any of the mix left over, eat on its own or with chopped fruit - it's very tasty)
Cook for 25-30 minutes, until the top is golden brown (if it starts to brown too soon, place a slice of foil over the top and remove for the last 5 minutes of cooking)