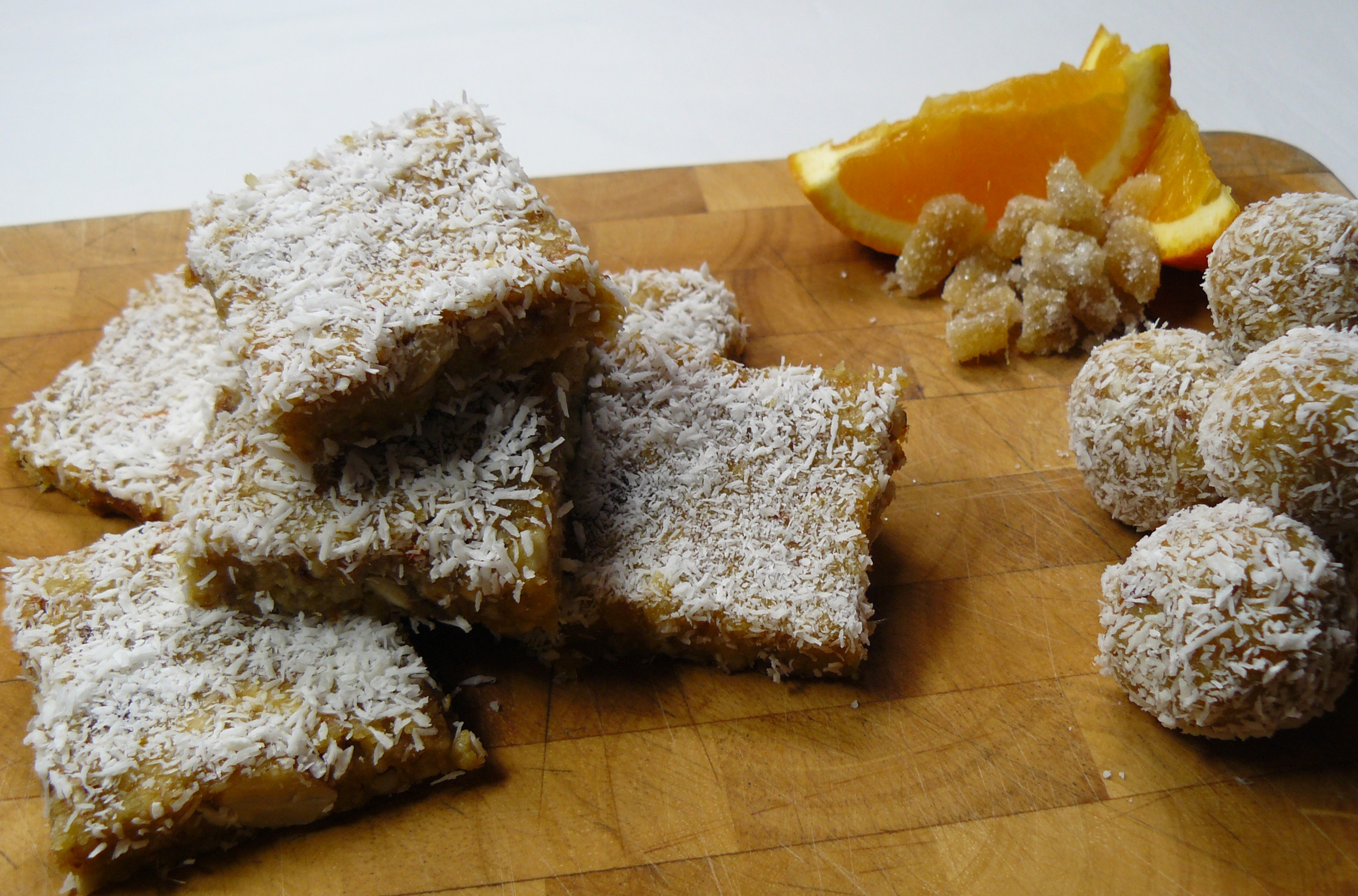 We Veggie Runners have wanted to create an energy bar for ages. We experimented a bit with savoury versions but couldn't quite get the mix right. We could get not quite savoury, like peanut butter ones and the like. There are loads of them around though so they didn't seem quite worth the effort. We also tried proper umami-type ingredients like Marmite but discovered that  you just really don't fancy those flavours in the middle of a long run or a mega-hike. Well, we don't anyway.
So we went back to the drawing board and, after a bit of trial and error, came up with these yummilicious Coconut and Ginger Energy Bars. Mega-tasty, piece of cake to make (though not literally – they're actually much easier than that) and packed full of goodness to sustain you when you're working that body Bob Graham or Jane Fonda style. There's protein from the nuts, carbs and sugars from the ginger (and, lots of research shows, anti-inflammatory properties too) and dates need no introduction as a wonder food (mineral-rich, a great source of anti-oxidants, fibre filled – you know the score).
And, as if that wasn't enough, these energy bars require no cooking and take no time to make at all (well, obviously, they take a few minutes or so – it's a figure of speech, not a widely held truth). Let me rephrase. They are very quick and easy to make. Great to make with kids too, as you can make them into any shape you like. Plus they're a great lunch box snack for little kids who get bigger ever day. We made half into energy bars and the rest into power balls, which we rolled in desiccated coconut.  As previously mentioned, yum!
Coconut and Ginger Energy Bars
Makes 12
Ingredients
150g raw cashews
100g almonds
50g desiccated coconut
80g crystallised ginger, chopped finely*
100g pitted dates
1 and a half teaspoon orange zest
Juice of 1 orange
*You can use Bibi's Crystallised Ginger recipe or shop bought for this. If you don't have any ginger, finely chopped dried apricots or dates will work instead.
Method
1 Line a baking tray or flan tin with greaseproof paper and set aside.
2 Place all of the ingredients in a food processor or blender (or use a stick blender) and mix well. Leave a few chunks of nuts for texture though. Add a little extra orange juice if it's too stiff but don't let it get sloppy.
3 Spread in the baking tray, pressing it right down into the corners.
4 Chill in the fridge for 2 hours then cut into slices and/or roll into power balls.